Rating:
4.9
. Number of organizations:
804

Countries:
All
Operating system:
Windows, Android, macOS
Group of programs:
USU software
Purpose:
Business automation
accounting for credit enterprises
Copyright protects the unique methods of business automation that are used in our programs.



Copyright

We are a verified software publisher. This is displayed in the operating system when running our programs and demo-versions.



Verified publisher

We work with organizations around the world from small businesses to large ones. Our company is included in the international register of companies and has an electronic trust mark.



Sign of trust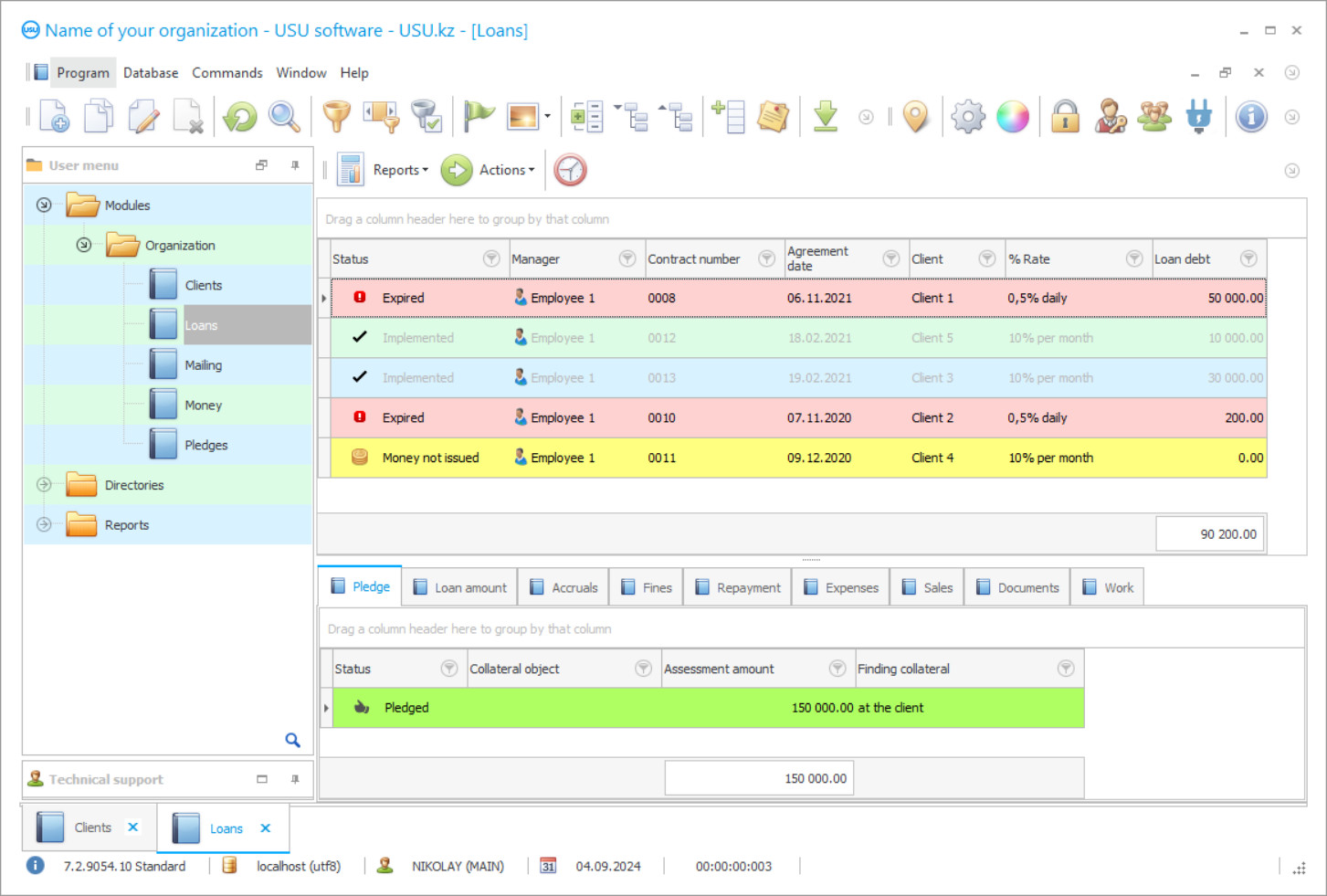 Download demo version
Instruction manual
When starting the program, you can select the language.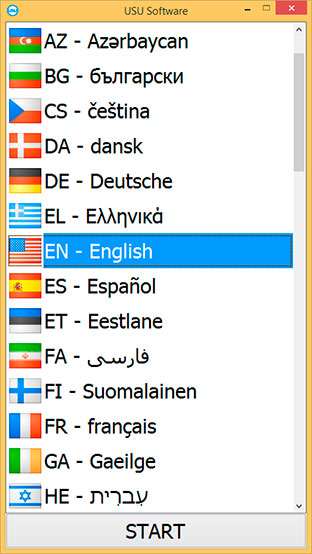 Premium-class program at an affordable price
1. Compare Configurations
Compare configurations of the program

2. Choose a currency
3. Calculate the cost of the program
4. If necessary, order a virtual server rental
In order for all your employees to work in the same database, you need a local network between computers (wired or Wi-Fi). But you can also order the installation of the program in the cloud if:
You have more than one user, but there is no local network between computers.
Some employees are required to work from home.
You have several branches.
You want to be in control of your business even while on vacation.
It is necessary to work in the program at any time of the day.
You want a powerful server without the big expense.
Calculate the cost of a virtual server

You pay only once for the program itself. And for the cloud payment is made every month.
5. Sign contract
Send the details of the organization or just your passport to conclude an agreement. The contract is your guarantee that you will get what you need. Contract
The signed contract will need to be sent to us as a scanned copy or as a photograph. We send the original contract only to those who need a paper version.
6. Pay with a card or other method
Your card may be in a currency that is no in the list. It's not a problem. You can calculate the cost of the program in US dollars and pay in your native currency at the current rate. To pay by card, use the website or mobile application of your bank.
Bank transfer



Bank transfer

Payment by card



Payment by card

Pay via PayPal



Pay via PayPal

International transfer Western Union or any other



Western Union
Automation from our organization is a complete investment for your business!
These prices are valid for the first purchase only
We use only advanced foreign technologies, and our prices are available to everyone
Compare configurations of the program
Popular choice

Economical
Standard
Professional
Main functions of the selected program Watch the video

All videos can be viewed with subtitles in your own language

Multi-user operation mode when purchasing more than one license Watch the video
Support for different languages Watch the video
Support of hardware: barcode scanners, receipt printers, label printers Watch the video
Using modern methods of mailing: Email, SMS, Viber, voice automatic dialing Watch the video
Ability to configure automatic filling of documents in Microsoft Word format Watch the video
Possibility to customize toast notifications Watch the video
Choosing a program design Watch the video
Ability to customize data import into tables Watch the video
Copying of the current row Watch the video
Filtering data in a table Watch the video
Support for grouping mode of rows Watch the video
Assigning images for more visual presentation of information Watch the video
Augmented reality for even more visibility Watch the video
Temporarily hiding certain columns by each user for himself Watch the video
Permanently hiding specific columns or tables for all users of a specific role Watch the video
Setting rights for roles to be able to add, edit and delete information Watch the video
Selecting fields to search for Watch the video
Configuring for different roles the availability of reports and actions Watch the video
Export data from tables or reports to various formats Watch the video
Possibility to use the Data Collection Terminal Watch the video
Possibility to customize a professional backup your database Watch the video
Audit of user actions Watch the video
Back to pricing

Rent of a virtual server. Price
When do you need a cloud server?
Rent of a virtual server is available both for buyers of "Universal Accounting System" as an additional option, and as a separate service. The price does not change. You can order a cloud server rental if:
You have more than one user, but there is no local network between computers.
Some employees are required to work from home.
You have several branches.
You want to be in control of your business even while on vacation.
It is necessary to work in the program at any time of the day.
You want a powerful server without the big expense.
If you are hardware savvy
If you are hardware savvy, then you can select the required specifications for the hardware. You will immediately be calculated the price for renting a virtual server of the specified configuration.
If you don't know anything about hardware
If you are not technically savvy, then just below:
In paragraph number 1, indicate the number of people who will work in your cloud server.
Next decide what is more important to you:

If it's more important to rent the cheapest cloud server, then don't change anything else. Scroll down this page, there you will see the calculated cost for renting a server in the cloud.
If the cost is very affordable for your organization, then you can improve performance. In step #4, change the server performance to high.
Hardware configuration
JavaScript is disabled, calculation is not possible, contact the developers for a price list
Order an accounting for credit enterprises
The increasing demand of the population for loans forces the country's economy to create special institutions that are able to provide such services. Accounting in credit enterprises must be kept continuously and in chronological order to provide management with complete information. Such firms are consumer-oriented and ready to offer a wide range of services.
Accounting of credit enterprises is kept according to the established norms and standards, which are spelled out in federal laws and other regulatory documents. Specialized programs can automate activities in a short time. It is only important to choose the right software following the specifics of the activity.
USU Software can work in various companies, regardless of the scale of their activities. It generates accounting and tax reporting at the end of the reporting period. This is of great importance for a credit institution, as it systematically submits documents to continue financing. Financial indicators are analysed on a quarterly basis to monitor the level of profitability, which characterizes the demand for the enterprise.
Credit, insurance, manufacturing, and transport organizations need high-quality accounting. It is important for them not only to automate their work but also to optimize costs. To have a competitive edge in the industry, you need to constantly monitor market performance and introduce new technologies. Currently, the growth of credit enterprises already totals hundreds a year. New companies appear or old ones leave. There are constant updates, so it is important to keep your finger on the pulse.
The legislation of the country often amends accounting rules, so you need to systematically update the configuration. In order not to worry about the relevance of the indicators, you should use such software that will independently receive data via the Internet. The one-stop-shop differs from its competitors in that it implements changes online and does not degrade productivity.
Accounting in credit enterprises is the correct formation of documents, reports, books, and magazines. With the help of electronic systems, this does not take much time. Typical transaction templates allow staff to quickly create transactions and process requests. When requesting data from management, the report can be sent by e-mail. This is how time costs are optimized. Additional reserves are used to develop new activities and monitor market demand.
USU Software designed for credit enterprises takes care of its customers. It empowers any organization. You can work not only in your country but also abroad. Due to the trial version, you can evaluate all the functionality at no additional cost. To purchase it, go to our official website, where all relevant data about our products are presented. Moreover, there are contacts of our specialist and supporting the. Call them for extra maintenance services or order new products and edit the accounting of your credit enterprise.
The accounting system of credit enterprises is the best solution to ensure the profitability of the company as it provides unlimited possibilities for that. Its high-quality functionality was created by our specialists, using the last approaches of the computer technology and their qualifications. Our program can perform fast processing of incoming applications. It significantly facilitates the work of employees, increasing their productivity and efficiency, and contributing to the rise of profits in the credit enterprise, which is very beneficial. Moreover, the application is ensured with high-performance structures and components, which guarantee quality. At the same time, the price of the accounting software is not high and affordable for every credit enterprise. This is our distinct policy, which shows our good attitude towards clients, increasing their loyalty and confidence in us.
There are many other facilities provided by USU Software, including convenient menu, modern design, built-in electronic assistant, access by login and password, issuance of loans, formation of the repayment schedule, calculation of payment amounts, accounting and tax reporting, document templates for credit, transport, and industrial organizations, synthetic and analytical accounting, bank statement, compliance with the legislation of the country, selecting program settings, formation of accounting policy of the country, special reference books and classifiers, using a vibe, determination of supply and demand, task manager, sending notifications, integration with the site, formation of applications via the Internet, mass mailing by SMS and e-mail, cash flow control, identification of late payments, service quality assessment, process management, accounting certificates, payroll preparation, chart of accounts, personnel accounting, backup, video surveillance service upon request, transferring a database from another program, analysis of income and expenses, special books and magazines, actual reference information, working with different currencies, debt recalculations, accounts payable and receivable, money orders, accounting posting templates, partial and full payment, connection to payment terminals upon request, consolidation and informatization, extended reporting, lending rates, use in large and small companies, and unlimited item creation.