Rêzkirin:
4.9
. Hejmara saziyan:
480

Welatên:
Gişt
Pergala xebitandinê:
Windows, Android
Bernameya komê:
USU software
Armanc:
Otomasyona karsaziyê
Xweseriya daxwazên pêvajoyê ji bo karûbarê piştevaniya teknîkî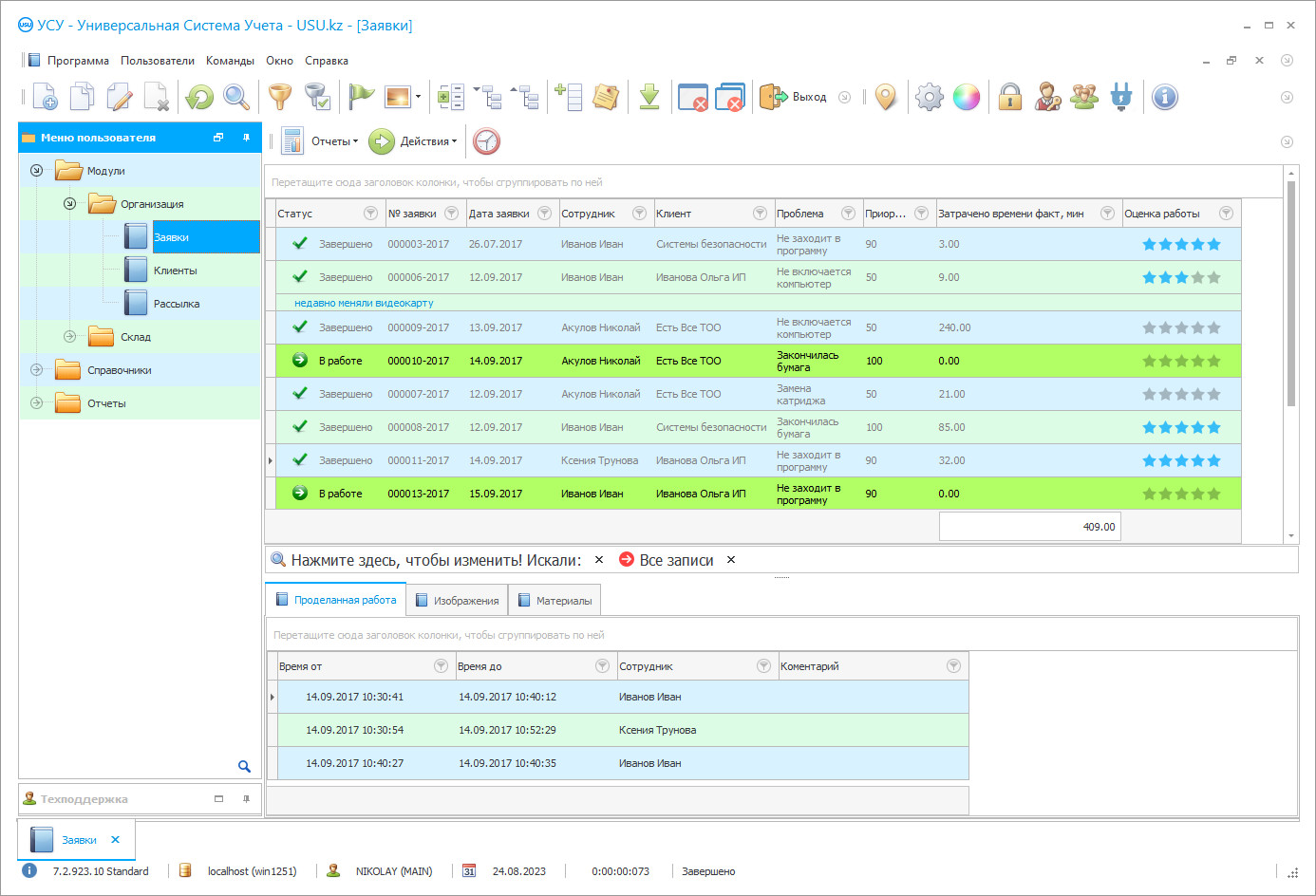 Guhertoya demo dakêşin
Bernameya pola Premium bi bihayek erzan
Otomasyona ji rêxistina me ji bo karsaziya we veberhênanek bêkêmasî ye!
Em tenê teknolojiyên biyanî yên pêşkeftî bikar tînin, û bihayên me ji her kesî re hene
Rêbazên dravdanê yên gengaz
Veguheztina bankê



Veguheztina bankê

Payment bi kartê



Payment bi kartê

Bi rêya PayPal bidin



Bi rêya PayPal bidin

Veguheztina Navneteweyî ya Yekîtiya Rojavayî an jî ya din



Western Union
Veavakirinên bernameyê bidin ber hev
Hilbijartina populer

Aborî
Wek herdem
Karî
Fonksiyonên sereke yên bernameya hilbijartî Vîdyoyê temaşe bikin

Hemî vîdyo dikarin bi jêrnivîsên bi zimanê xwe werin dîtin

Moda xebata pir-bikarhêner dema ku ji yekê zêdetir lîsans bikirin Vîdyoyê temaşe bikin
Piştgiriya ji bo zimanên cuda Vîdyoyê temaşe bikin
Piştgiriya hardware: skanerên barkodê, çapkerên wergirtinê, çapkerên labelê Vîdyoyê temaşe bikin
Bikaranîna rêbazên nûjen ên nameyê: E-name, SMS, Viber, jimartina otomatîkî ya deng Vîdyoyê temaşe bikin
Kapasîteya mîhengkirina dagirtina otomatîkî ya belgeyan di forma Microsoft Word de Vîdyoyê temaşe bikin
Ihtîmala xweşkirina notifications toast Vîdyoyê temaşe bikin
Hilbijartina sêwirana bernameyê Vîdyoyê temaşe bikin
Qabiliyeta kesanekirina îthalata daneyê li tabloyan Vîdyoyê temaşe bikin
Kopîkirina rêza heyî Vîdyoyê temaşe bikin
Parzûnkirina daneyan di tabloyekê de Vîdyoyê temaşe bikin
Piştgiriya ji bo moda komkirina rêzan Vîdyoyê temaşe bikin
Tayînkirina wêneyan ji bo pêşandana dîtbarî ya agahdariyê Vîdyoyê temaşe bikin
Rastiya zêdekirî ji bo hê bêtir xuyangkirinê Vîdyoyê temaşe bikin
Bi demkî hin stûnan ji hêla her bikarhêner ve ji bo xwe vedişêre Vîdyoyê temaşe bikin
Bi domdarî stûn an tabloyên taybetî ji bo hemî bikarhênerên rolek taybetî vedişêrin Vîdyoyê temaşe bikin
Sazkirina mafên ji bo rolan ji bo ku karibin agahdarî zêde bikin, biguherînin û jêbirin Vîdyoyê temaşe bikin
Hilbijartina zeviyên ji bo lêgerînê Vîdyoyê temaşe bikin
Veavakirina ji bo rolên cihêreng hebûna rapor û çalakiyan Vîdyoyê temaşe bikin
Daneyên ji tabloyan an raporan bi formên cihêreng derxînin Vîdyoyê temaşe bikin
Ihtîmala bikaranîna Termînala Berhevkirina Daneyan Vîdyoyê temaşe bikin
Ihtîmala ku hûn databasa xwe paşvekêşek profesyonel xweş bikin Vîdyoyê temaşe bikin
Kontrolkirina kiryarên bikarhêner Vîdyoyê temaşe bikin
Ji karûbarê piştgiriya teknîkî re otomatîkkirina daxwazên pêvajoyê ferman bikin
Xweseriya daxwazên pêvajoyê rêyek girîng e ku meriv karûbarê karûbarê piştevaniya teknîkî baştir bike. Lêbelê, hêja ye ku meriv bi baldarî bijartina amûran bigire - ev yek ji wan aliyên herî girîng e. Otomatîzekirina bernameya daxwazên pêvajoyê ji pergala Nermalava USU karê karûbarê we bi qasî ku gengaz hêsan dike û bêtir dem ji bo bêhnvedan û pêşkeftinê azad dike. Li vir hûn dikarin ne tenê ji bo karûbarê ku piştgiriya teknîkî peyda dike bangan tomar bikin. Sazkirin ji bo navendên karûbarê, karûbarê agahdariya otomasyonê, pargîdaniyên gelemperî û taybet îdeal e. Bi sedan kes dikarin di heman demê de tê de bixebitin, û ev hemî - bêyî ku lez û berberî winda bikin. Her yek ji wan qeydkirina mecbûrî derbas dibe û têketina xwe ya bi şîfreya parastî distîne. Ew bixweberkirina daxwazên we bikêrtir dike û ewlehiya daxwazan garantî dike. Pêvajoya agahdariya li ser daxwazan pir zûtir e, û encamên wê di databasek hevpar de têne tomar kirin. Li vir hûn dikarin di her kêliyê de tomara xwestinê bibînin, li gorî daxwaza xwe wê biguherînin an jêbikin. Ma hûn difikirin ku ne hemî belgeyên teknîkî divê di qada gelemperî de bin? Dûv re veqetandina bikarhêneran saz bikin. Ji ber vê yekê ji karmend re hejmarek sînorkirî ya agahdariya rasterast bi karê wî ve girêdayî ye. Bi nêzîkatiyek ramanî, piştevaniya teknîkî pispor û bêserûber e. Rêvebirê teknîkî û kesên nêzî wî wêneya tevahî ya ku diqewime dibînin û di hemî modulên teknîkî yên peydakirinê de dixebitin. Berî ku hûn di pergalê de dest bi xebatê bikin, hûn hewce ne ku carekê agahdariya destpêkê têkevin bîra serîlêdanê. Ew bixweberkirina bêtir karûbarên teknîkî yên cihêreng dihêle. Mînakî, hûn navnîşek karmendan dinivîsin û karûbar peyda dikin, û dema ku belgeyek diafirînin, bernameya otomasyonê bixwe daneyan di beşên guncan de cîh dike. Wekî din, pirraniya mezin a formên nivîsgehê li vir têne piştgirî kirin. Dema ku serîlêdanek nû çêbikin, hûn dikarin tavilê kategoriya wê diyar bikin. Ev gengaz dike ku peywiran li gorî asta têkildariyê birêkûpêk bikin, pêşî yên herî girîng bişopînin. Hûn dikarin dînamîkên kiryarên her kesî bi belavkirina barê xebatê di navbera pisporan de bişopînin. Serlêdana otomasyonê databasek hevpar diafirîne ku hêdî hêdî belgeyên pargîdaniyê berhev dike. Ji bo ku hûn pelê pêvajoyek ku hûn li vir hewce ne zû bibînin û wextê zêde winda nekin, fonksiyona lêgerîna kontekstê çalak bikin. Ev pêngavek girîng e di daxwaznameyên otomatîkî yên karûbarê weya teknîkî de. Bes e ku meriv çend tîp an hejmarên serîlêdanê têxe da ku hevberdanên hatine dîtin di databasê de nîşan bide. Piştî veavakirina desteka pêşîn, hilanîna hilanînê tê lîstikê. Mimkun e ku hûn kopiyên her tomarên otomasyonê ji databasa bingehîn bibînin, hetta ku ew bi xeletî zirardar bin an jêbirin. Ger hewce be, fonksiyona nermalavê ji bo fermanê dibe sedema guhertinan. Ji ber vê yekê hûn dikarin Mizgîniya kesane ya rêveberên nûjen bistînin - di cîhana karsaziyê de rêbernameyek rêveberê pocket. Bi nirxandinek kalîteyê ya tavilê, hûn dikarin vebijarkên daxwazên bazara xerîdar lêkolîn bikin, û hem jî xeletiyên gengaz rast bikin. Ji bo hêsankirina çalakiyên rêxistinî awayên çêtirîn hilbijêrin - peydakirina Nermalava USU hilbijêrin!
Bi pêkanîna daxwazên ji bo otomasyona karûbarê piştevaniya teknîkî, hûn bi girîngî karê pargîdaniyê hêsan dikin. Databasek berfireh çalakiyên karmendan li her dûr hevrêz dike. Pêvajoya qeydkirina bilez bi destnîşankirina navek bikarhêner û şîfreya kesane. Tedbîrên ewlehiyê yên sofîstîke we ji xetereyên nehewce diparêzin û daneyên we ji ewlehtir bi ewle diparêzin. Pêvajoya bilez a daxwazan ji bo bidestxistina navûdengê wekî pargîdaniyek pêbawer û bihêzkirina pozîsyona xwe di sûkê de dibe alîkar. Xweseriya hêsan pergala otomasyonê li gorî hewcedariyên we dirûnîne. Bikarhêner serbixwe gelek aliyên xebata bi nermalavê re rêve dike. Dema ku hûn nameya girseyî an kesane bikar tînin, danûstendina bi xerîdaran re dijwariyek piçûktir nake. Navbera herî hêsan a ku zarokek jî dikare bi dest bixe. Ya sereke ev e ku meriv piçek xîret bicîh bîne û bi rêwerzên pisporên Nermalava USU re were nas kirin. Pêvajoya îdiayên bernameya lênihêrîna piştgirîya teknîkî dihêle ku meriv di cûrbecûr formatan de bixebite. Karsaziya xwe ji berê de plan bikin. Li vir hûn dikarin ji bo her kesek plansaziyek çêbikin û qonaxên pêkanîna wan bişopînin. Serlêdan bixweber gelek raporên rêveberê li ser bingeha analîzên adil diafirîne. Ji bo sazkirina vê nermalavê hûn ne hewce ne ku demek dirêj li bendê bin!
Prosedûra ji dûr ve, tavilê piştî encamdana peyman û dravdanê tête kirin. Nermalava arîkariya teknîkî bi fonksiyonên cûrbecûr yên çêkirî yên mîna şiyana xebitandina bi her zimanê cîhanê re tê dagirtin. Bi yekbûna bi danûstendinên têlefonê an malpera fermî ya pargîdaniyê re peydakirina xwe baştir bikin. Ji bo xebata bi gel re di rêxistinên giştî û taybet de îdeal e. Di vê rewşê de, her hejmarek bikarhênerên çalak têne destûr kirin. Zêdetir avantajên peydakirinê di guhertoya demo de bê guman belaş têne pêşkêş kirin!
Pêngavên xweşbîniyê yên her daxwazên pêvajoyek karsaziyê bi rêzek xwezayî, ne rêzik, têne kirin. Ev destûrê dide ku pêvajo li ku derê gengaz be paralel bibe. Çalakiya pêvajoyê vebijarkên cûda yên xweseriya darvekirinê hene. Pêdivî ye ku guhertoyên cûda yên darvekirinê hebe, li gorî rewşa taybetî, û her vebijarka otomasyonê divê hêsan û têgihîştî be. Li cihê ku pêwîst be xebat tê kirin. Di heman demê de xebat di navbera sînorên dezgehan de tê belavkirin û yekbûna nepêwîst ji holê tê rakirin. Hejmara kontrolkirin û çalakiyên otomasyona kontrolê kêm dibe. Pêdivî ye ku ew bi rêkûpêk bimeşînin, ku dê dem û lêçûna pêvajoyên karûbarê piştgiriyê kêm bike.