Rating:
4.9
. Number of organizations:
576

Countries:
All
Operating system:
Windows, Android, macOS
Group of programs:
USU software
Purpose:
Business automation
Courses automation
Copyright protects the unique methods of business automation that are used in our programs.



Copyright

We are a verified software publisher. This is displayed in the operating system when running our programs and demo-versions.



Verified publisher

We work with organizations around the world from small businesses to large ones. Our company is included in the international register of companies and has an electronic trust mark.



Sign of trust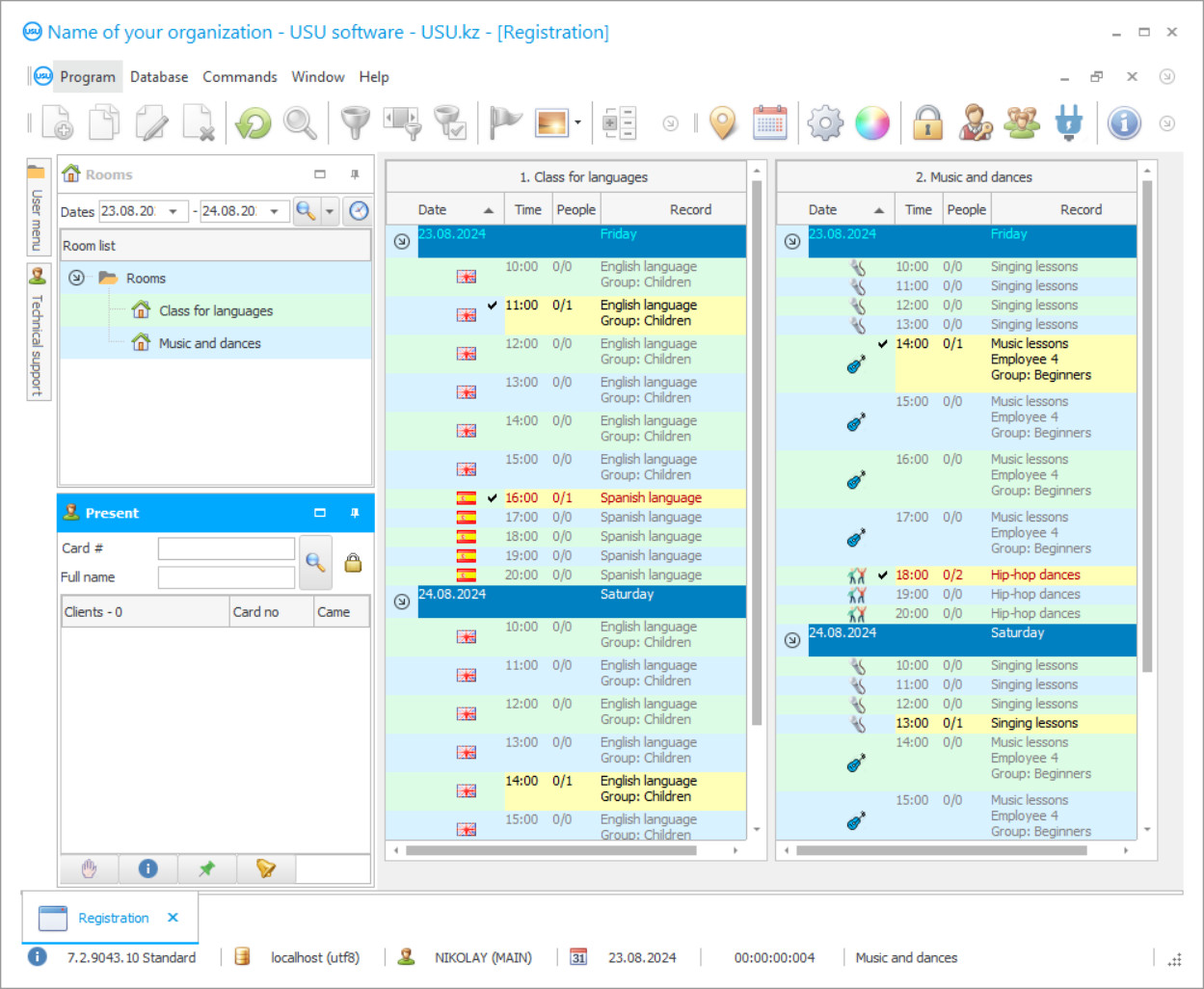 Download demo version
When starting the program, you can select the language.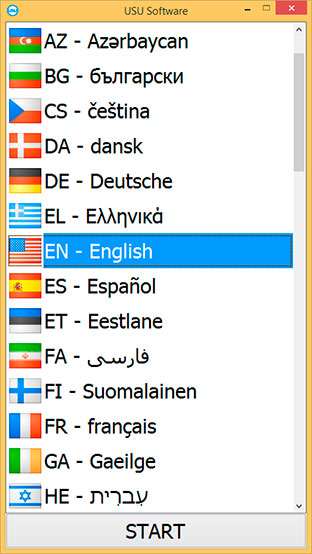 Premium-class program at an affordable price
1. Compare Configurations
Compare configurations of the program

2. Choose a currency
3. Calculate the cost of the program
4. If necessary, order a virtual server rental
In order for all your employees to work in the same database, you need a local network between computers (wired or Wi-Fi). But you can also order the installation of the program in the cloud if:
You have more than one user, but there is no local network between computers.



No local area network

Some employees are required to work from home.



Work from home

You have several branches.



There are branches

You want to be in control of your business even while on vacation.



Control from vacation

It is necessary to work in the program at any time of the day.



Work at any time

You want a powerful server without the big expense.



Powerful server
Calculate the cost of a virtual server

You pay only once for the program itself. And for the cloud payment is made every month.
5. Sign contract
Send the details of the organization or just your passport to conclude an agreement. The contract is your guarantee that you will get what you need. Contract
The signed contract will need to be sent to us as a scanned copy or as a photograph. We send the original contract only to those who need a paper version.
6. Pay with a card or other method
Your card may be in a currency that is no in the list. It's not a problem. You can calculate the cost of the program in US dollars and pay in your native currency at the current rate. To pay by card, use the website or mobile application of your bank.
Bank transfer



Bank transfer

Payment by card



Payment by card

Pay via PayPal



Pay via PayPal

International transfer Western Union or any other



Western Union
Automation from our organization is a complete investment for your business!
These prices are valid for the first purchase only
We use only advanced foreign technologies, and our prices are available to everyone
Compare configurations of the program
Popular choice

Economical
Standard
Professional
Main functions of the selected program Watch the video

All videos can be viewed with subtitles in your own language

Multi-user operation mode when purchasing more than one license Watch the video
Support for different languages Watch the video
Support of hardware: barcode scanners, receipt printers, label printers Watch the video
Using modern methods of mailing: Email, SMS, Viber, voice automatic dialing Watch the video
Ability to configure automatic filling of documents in Microsoft Word format Watch the video
Possibility to customize toast notifications Watch the video
Choosing a program design Watch the video
Ability to customize data import into tables Watch the video
Copying of the current row Watch the video
Filtering data in a table Watch the video
Support for grouping mode of rows Watch the video
Assigning images for more visual presentation of information Watch the video
Augmented reality for even more visibility Watch the video
Temporarily hiding certain columns by each user for himself Watch the video
Permanently hiding specific columns or tables for all users of a specific role Watch the video
Setting rights for roles to be able to add, edit and delete information Watch the video
Selecting fields to search for Watch the video
Configuring for different roles the availability of reports and actions Watch the video
Export data from tables or reports to various formats Watch the video
Possibility to use the Data Collection Terminal Watch the video
Possibility to customize a professional backup your database Watch the video
Audit of user actions Watch the video
Back to pricing

Rent of a virtual server. Price
When do you need a cloud server?
Rent of a virtual server is available both for buyers of "Universal Accounting System" as an additional option, and as a separate service. The price does not change. You can order a cloud server rental if:
You have more than one user, but there is no local network between computers.
Some employees are required to work from home.
You have several branches.
You want to be in control of your business even while on vacation.
It is necessary to work in the program at any time of the day.
You want a powerful server without the big expense.
If you are hardware savvy
If you are hardware savvy, then you can select the required specifications for the hardware. You will immediately be calculated the price for renting a virtual server of the specified configuration.
If you don't know anything about hardware
If you are not technically savvy, then just below:
In paragraph number 1, indicate the number of people who will work in your cloud server.
Next decide what is more important to you:

If it's more important to rent the cheapest cloud server, then don't change anything else. Scroll down this page, there you will see the calculated cost for renting a server in the cloud.
If the cost is very affordable for your organization, then you can improve performance. In step #4, change the server performance to high.
Hardware configuration
JavaScript is disabled, calculation is not possible, contact the developers for a price list
Order courses automation
If you are still in search of the course automation system, and are monitoring dozens of websites for this purpose, then at this point your searches can be officially considered complete! The USU team has developed high-tech software to optimize the work of any institution, and most importantly, to provide the full automation of training courses. The system for course automation is multifunctional software that is capable of bringing the maximum productivity in all organizational work of the training center. Buying such a reliable assistant, you should know that most of the staff can be excluded from routine work as the program of courses automation can do it faster and without mistakes. The employees of your company are sure to see how easy their work with the automation program can become. Thanks to the full automation of the course system, the software does not give the slightest chance to get confused or not understand the actions. The automation of the course system starts with the fact that users are able to transfer all previously stored information in the software without any problems if they choose the "import" action on the first launch. Next, you choose a suitable format and send, for example, all available files from Excel. This way you can fill in the initial nomenclature of the courses themselves. Next, you move on to students and teachers. In this course automation system, everything is arranged in such a way that the teachers, students, and courses themselves are rated. This is very convenient. Thanks to these ratings, the manager is aware of the cost effectiveness of classes, the professionalism of teachers, and the potential for both knowledge and ability students to pay.
You can introduce a discount club the territory of your training center. Its participants accumulate bonuses, receive discounts, and thus are additionally systematically stimulated to remain your clients and to purchase more courses. It is possible to inform your customers about promotions or other beneficial offers through frequently used notification lists. These include Viber, SMS and e-mail. There is another interesting automation feature that makes this automation software unique - it is a voice call made by the system independently on behalf of the company. This function does not require a pre-record of the information message, because it is executed by the automation program automatically. Automation of courses is very important. A modern educational institution must trust in high technology. And not just trust, but also actively implement them in their work. Then most tasks and actions will be carried out under your careful control, but without direct involvement. If you need a course automation program, it is better to download such software from the official website of the verified organization. Interact with the company called USU. This company provides you with a high-quality software solution. With it, you are able to run your business properly. Our courses automation program is characterized by a high level of optimization. That's why it can be installed on any PC that has minimal operation capacities. Of course, you also need Windows for the courses automation system to function flawlessly. It does not have too high system requirements. Therefore, operation is allowed on any functional PC. Take advantage of our software. It allows you to correctly perform the necessary business operations. This application functions without any mistakes. Moreover, the management of the company is executed in the automation mode. There is no need to call the organization. Just use the services of our program of courses automation. It is well optimized and suits you in any case. The operation is simple and has clear process. You will also be able to compete with any opponent, surpassing them in basic parameters. After all, our application allows you to place the actual stock in warehouses.
Our course automation program is so well optimized that it can be used by any operator. It is not even necessary to have a very good computer literacy level. The order you place with program is immediately transferred to the organization that is operating it. You can form any order. It can relate to any field of activity. It can be cargo transportation, technical support, making an appointment to see the teacher of your courses school and so on. This is very important, so install our comprehensive solution. Take advantage of our multifunctional application to accept requests from customers and process them in record time. All the actual information about the placed orders is immediately received by the manager of your school. Take advantage of our product to dominate the market. With this application, we are firmly anchored in our positions on the market. Previously you had to make many moves to achieve good results. Now just use our program – we have thought about every function that you might need! It has almost no limits! The USU-Soft is specialized in creating software solutions that help you optimize your workflow. Designated artificial intelligence works harmoniously in your company and provides the necessary information in record time. Your business will be given due attention if you use our program. It will work instead of a whole department of employees who could sit on the phone and accept applications. It's also convenient for clients to place orders directly without any unnecessary actions. They like to do business quickly and with the latest technology. It is the tool that will come to your rescue. It works in sync with any software. If interested, visit our official website!