Rating:
4.9
. Number of organizations:
684

Countries:
All
Operating system:
Windows, Android, macOS
Group of programs:
USU software
Purpose:
Business automation
announcements mailing
Copyright protects the unique methods of business automation that are used in our programs.



Copyright

We are a verified software publisher. This is displayed in the operating system when running our programs and demo-versions.



Verified publisher

We work with organizations around the world from small businesses to large ones. Our company is included in the international register of companies and has an electronic trust mark.



Sign of trust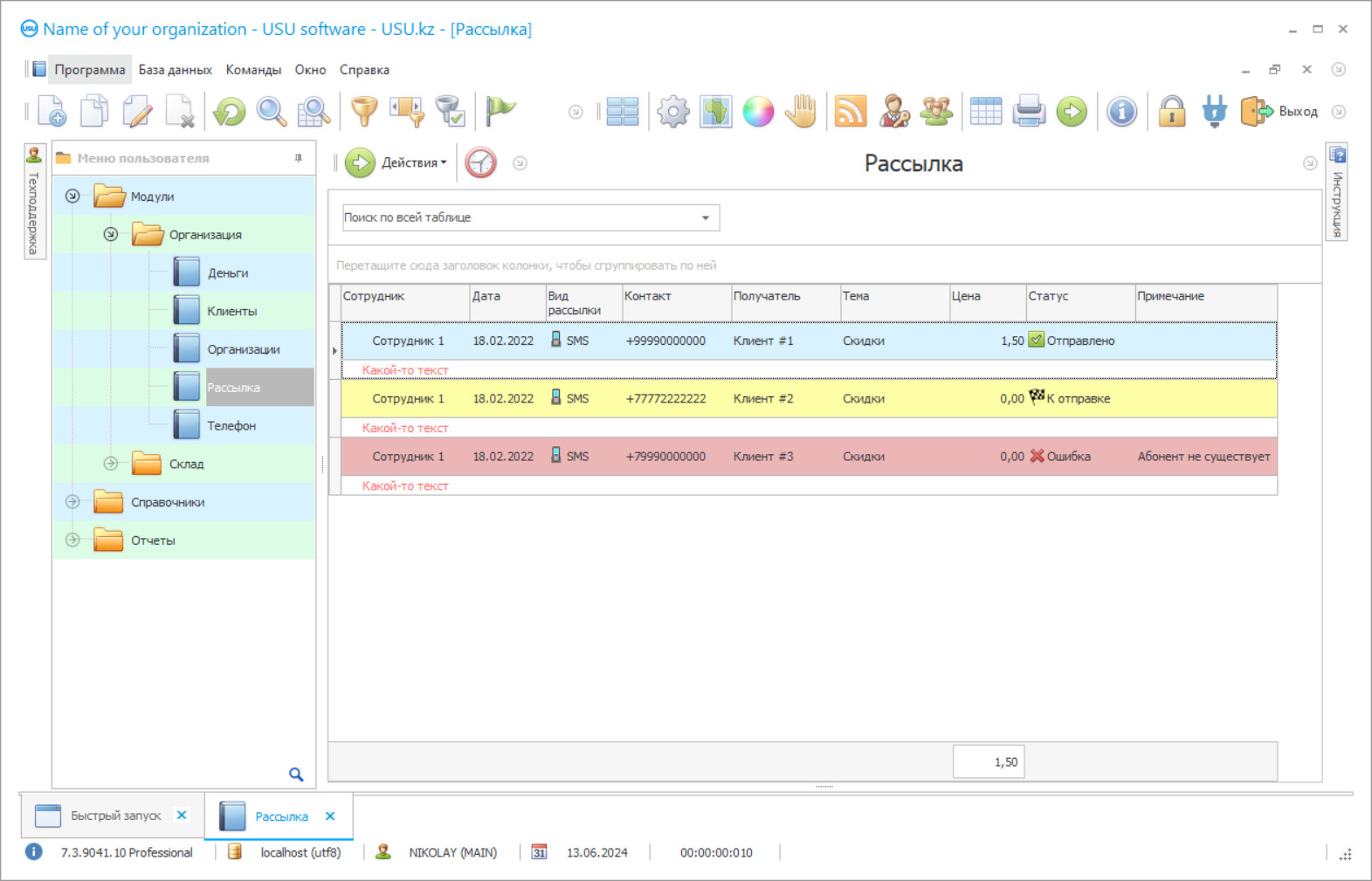 Download demo version
Premium-class program at an affordable price
1. Compare Configurations
Compare configurations of the program

2. Choose a currency
3. Calculate the cost of the program
4. If necessary, order a virtual server rental
In order for all your employees to work in the same database, you need a local network between computers (wired or Wi-Fi). But you can also order the installation of the program in the cloud if:
You have more than one user, but there is no local network between computers.
Some employees are required to work from home.
You have several branches.
You want to be in control of your business even while on vacation.
It is necessary to work in the program at any time of the day.
You want a powerful server without the big expense.
Calculate the cost of a virtual server

You pay only once for the program itself. And for the cloud payment is made every month.
5. Sign contract
Send the details of the organization or just your passport to conclude an agreement. The contract is your guarantee that you will get what you need. Contract
The signed contract will need to be sent to us as a scanned copy or as a photograph. We send the original contract only to those who need a paper version.
6. Pay with a card or other method
Your card may be in a currency that is no in the list. It's not a problem. You can calculate the cost of the program in US dollars and pay in your native currency at the current rate. To pay by card, use the website or mobile application of your bank.
Bank transfer



Bank transfer

Payment by card



Payment by card

Pay via PayPal



Pay via PayPal

International transfer Western Union or any other



Western Union
Automation from our organization is a complete investment for your business!
These prices are valid for the first purchase only
We use only advanced foreign technologies, and our prices are available to everyone
Compare configurations of the program
Popular choice

Economical
Standard
Professional
Main functions of the selected program Watch the video

All videos can be viewed with subtitles in your own language

Multi-user operation mode when purchasing more than one license Watch the video
Support for different languages Watch the video
Support of hardware: barcode scanners, receipt printers, label printers Watch the video
Using modern methods of mailing: Email, SMS, Viber, voice automatic dialing Watch the video
Ability to configure automatic filling of documents in Microsoft Word format Watch the video
Possibility to customize toast notifications Watch the video
Choosing a program design Watch the video
Ability to customize data import into tables Watch the video
Copying of the current row Watch the video
Filtering data in a table Watch the video
Support for grouping mode of rows Watch the video
Assigning images for more visual presentation of information Watch the video
Augmented reality for even more visibility Watch the video
Temporarily hiding certain columns by each user for himself Watch the video
Permanently hiding specific columns or tables for all users of a specific role Watch the video
Setting rights for roles to be able to add, edit and delete information Watch the video
Selecting fields to search for Watch the video
Configuring for different roles the availability of reports and actions Watch the video
Export data from tables or reports to various formats Watch the video
Possibility to use the Data Collection Terminal Watch the video
Possibility to customize a professional backup your database Watch the video
Audit of user actions Watch the video
Back to pricing

Rent of a virtual server. Price
When do you need a cloud server?
Rent of a virtual server is available both for buyers of "Universal Accounting System" as an additional option, and as a separate service. The price does not change. You can order a cloud server rental if:
You have more than one user, but there is no local network between computers.
Some employees are required to work from home.
You have several branches.
You want to be in control of your business even while on vacation.
It is necessary to work in the program at any time of the day.
You want a powerful server without the big expense.
If you are hardware savvy
If you are hardware savvy, then you can select the required specifications for the hardware. You will immediately be calculated the price for renting a virtual server of the specified configuration.
If you don't know anything about hardware
If you are not technically savvy, then just below:
In paragraph number 1, indicate the number of people who will work in your cloud server.
Next decide what is more important to you:

If it's more important to rent the cheapest cloud server, then don't change anything else. Scroll down this page, there you will see the calculated cost for renting a server in the cloud.
If the cost is very affordable for your organization, then you can improve performance. In step #4, change the server performance to high.
Hardware configuration
JavaScript is disabled, calculation is not possible, contact the developers for a price list
Order an announcements mailing
Sending advertisements is an important business process. For its correct implementation, you need to use high-quality software, which was created by experienced and competent programmers of the Universal Accounting System project. Our end-to-end solution was created using high-quality technologies that we acquire in foreign countries and optimize in order to create high-quality software. We are guided by a record-keeping policy of a democratic format, due to which the program for sending ads is generally inexpensive. It is distributed on favorable terms for the purchaser, which makes this product a truly universal solution that allows you to quickly achieve impressive results and, at the same time, spend the least possible amount of resources. Install our complex and then, mailing can be done efficiently and quickly. Thanks to this, you will quickly surpass any competing structures and consolidate your position.
Announcements as their mailing will be given due attention, thanks to which, your business will take off. Any parameters for the selection of counterparties will be available to the user of this electronic product. You can easily cope with the tasks of the current format and bring your company to a completely new level of professionalism. Interact with ads efficiently by sending newsletters using our software. It is suitable for making a sample of the target audience. These can be people of a certain age, having any status within the database, and so on. In general, almost any parameters can serve as a criterion for finding information materials of the required order. You just need to navigate how the search engine works.
Engage in professional and highly effective mailing of ads with a comprehensive solution from the Universal Accounting System. When interacting with our team, you have every chance of gaining a confident victory in the competitive confrontation due to the efficient allocation of resources. You will be able to apply all the reserves at the disposal of the business to the maximum level of return. This will provide an opportunity to lead the market and gradually increase the gap from competing structures. Install our complex and then the mailing will be carried out most efficiently. You will be able to interact with our effective tool even in the absence of any essential knowledge in computer technology. A high level of computer literacy is simply not needed if you use our electronic product. With its help, you can easily carry out current office work and come to success. Our adaptive complex is a really high-quality electronic tool that will always come to your aid in the implementation of important office tasks.
Use our program to ensure that the distribution of announcements does not cause difficulties for the staff. People will be able to easily navigate how to carry out office operations. You will quickly find success and achieve impressive results in the confrontation that unfolds between you and your competitors. You can try the complex product for sending ads absolutely free of charge by downloading the demo version. The demo edition is a very effective tool for informational purposes only. You will be able to fully understand whether this electronic complex is suitable or not, which means that you will make an adequate management decision. You can also send SMS using the individual account you created within the framework of the corresponding service. It is very profitable and practical, which means, install our complex solution and use its functionality, thereby gaining an advantage over your opponents.
Our development for sending ads gives you the opportunity to work in bulk and individually. You will also be able to interact with statuses and display them according to the color of the message. Messages or errors sent will be flagged differently within the interface. You can always make the right management decision, thanks to which the business of the company will dramatically go uphill. This electronic complex is not at all intended for sending spam. Its secondary task is effective interaction with the selected target audience. As a rule, you get consent from representatives of this very audience for them to receive notifications from you. This gives you the opportunity, without violating the rights of consumers, to interact with them on a beneficial basis.
The free dialer is available as a demo version for two weeks.
The program for sending announcements will help to keep your clients always up to date with the latest news!
To notify customers about discounts, report debts, send out important announcements or invitations, you will definitely need a program for letters!
The program for mass mailing will eliminate the need to form identical messages to each client separately.
The mailing program allows you to attach various files and documents in an attachment, which are generated automatically by the program.
The free program for mailing to e-mail sends messages to any e-mail addresses that you choose for mailing from the program.
The program for SMS over the Internet allows you to analyze the delivery of messages.
Viber mailing software allows mailing in a convenient language if it is necessary to interact with foreign clients.
The program for SMS messaging generates templates, on the basis of which you can send messages.
The program for outgoing calls can be changed according to the individual wishes of the customer by the developers of our company.
The program for calling clients can call on behalf of your company, transmitting the necessary message for the client in voice mode.
When sending bulk SMS, the program for sending SMS pre-calculates the total cost of sending messages and compares it with the balance on the account.
Mailing and accounting of letters is carried out through the mailing of e-mail for clients.
The automated messaging program consolidates the work of all employees in a single program database, which increases the productivity of the organization.
The program for sending letters to phone numbers is executed from an individual record on the sms server.
You can download the program for mailing in the form of a demo version to test the functionality from the website of Universal Accounting System.
A free program for email distribution in the trial mode will help you see the program's capabilities and familiarize yourself with the interface.
The viber messaging program allows you to form a single customer base with the ability to send messages to the Viber messenger.
A free SMS messaging program is available in test mode, the purchase of the program itself does not include the presence of monthly subscription fees and is paid for once.
A program for sending SMS will help you send a message to a specific person, or make a mass mailing to several recipients.
SMS software is an irreplaceable assistant for your business and interaction with clients!
The program for sending SMS from a computer analyzes the status of each sent message, determining whether it was delivered or not.
The email newsletter program is available to be sent to customers all over the world.
The installation process of the complex for sending ads will be carried out by us so that you do not have any difficulties in performing this clerical operation.
Configurations are set up almost immediately after the product has been installed on the system units available to the company.
A quick start for this product is provided by the employees of the Universal Accounting System so that you have the opportunity to immediately start receiving benefits from the acquisition of this software.
The program for sending announcements from a project of our company gives you an excellent opportunity to vary the status of messages and visually study them.
The versatility of an electronic product is its distinctive feature and undoubted advantage.
The complex is suitable for a trade enterprise, production, atelier, a microfinance organization, a repair shop, a service center, an educational institution, and so on.
The scope of our electronic product is very wide, due to which you get significant benefits from using it.
The complex for sending announcements from the Universal Accounting System project will allow you to visually visualize information materials and track the status of sending.
You will be able to find out in advance the cost of sending messages and study the balance.
Our comprehensive product provides you with an excellent opportunity to automatically interact with your target audience and send messages without any difficulties.
The mailing will be carried out by you at a professional level, thanks to which, labor resources can be saved.
Reducing the workload on staff will have a positive effect on all business activities and you are able to optimize all things, thereby leading the company to long-term success.
Our modern application for sending announcements can be downloaded absolutely free of charge on our portal. This is done so that you do not have any difficulties in acquaintance.
This comprehensive product provides low mailing rates if you want to use the SMS Center.
Our product allows you to effectively automate your business and thereby achieve success by interacting with information materials at the proper level of quality.
A complex product for sending ads from "USU" allows you to choose representatives of the target audience according to your favorite criteria, which gives you a quick maneuver in your activities.
Any information blocks can serve as parameters for the criterion, thanks to which you will come to success.
Files can be sent along with letters and, thereby, carrying out two whole clerical operations at the same time.