Rating:
4.9
. Number of organizations:
853

Countries:
All
Operating system:
Windows, Android, macOS
Group of programs:
USU software
Purpose:
Business automation
advertisement in email distribution
Copyright protects the unique methods of business automation that are used in our programs.



Copyright

We are a verified software publisher. This is displayed in the operating system when running our programs and demo-versions.



Verified publisher

We work with organizations around the world from small businesses to large ones. Our company is included in the international register of companies and has an electronic trust mark.



Sign of trust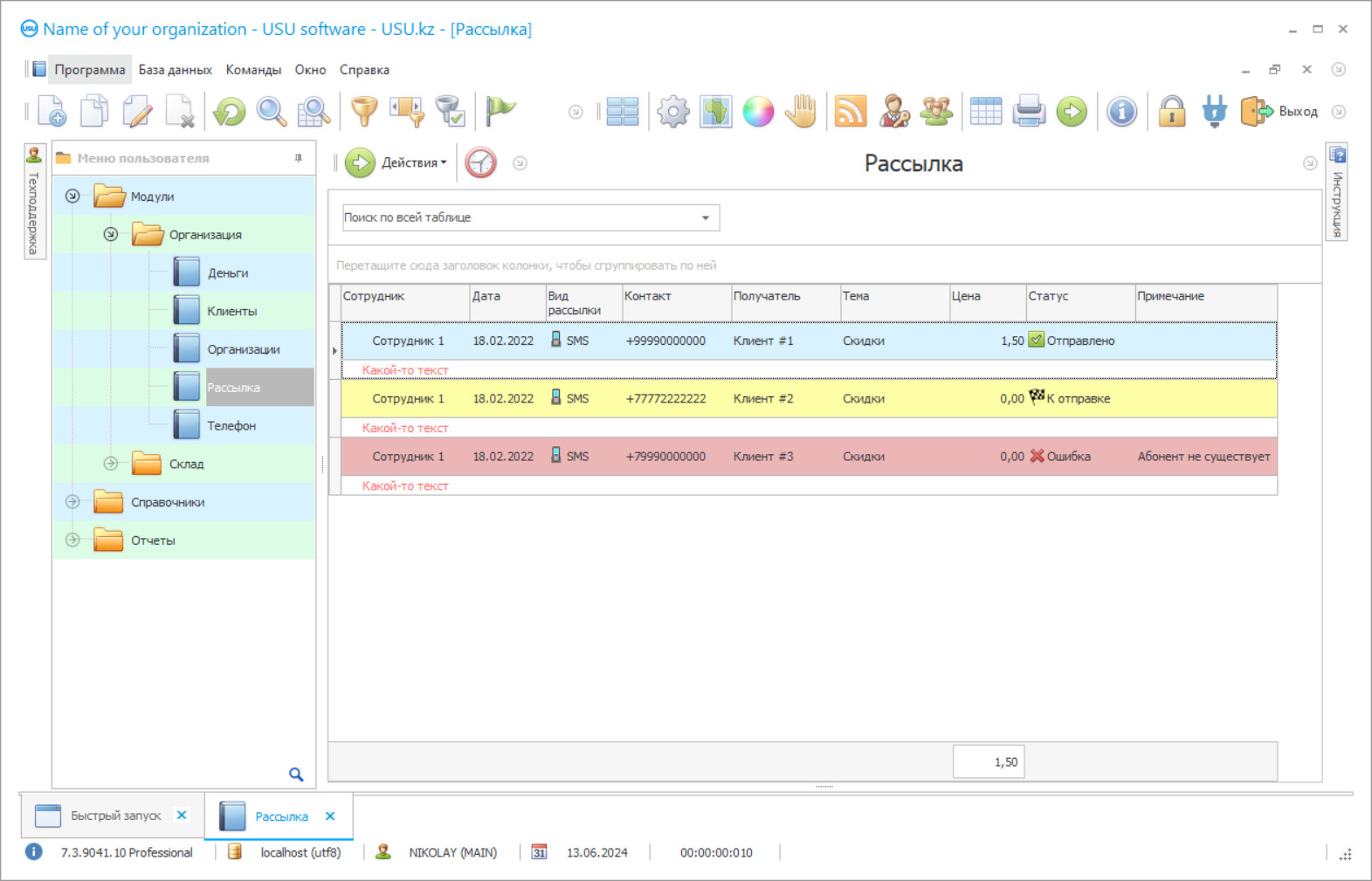 Download demo version
Premium-class program at an affordable price
1. Compare Configurations
Compare configurations of the program

2. Choose a currency
3. Calculate the cost of the program
4. If necessary, order a virtual server rental
In order for all your employees to work in the same database, you need a local network between computers (wired or Wi-Fi). But you can also order the installation of the program in the cloud if:
You have more than one user, but there is no local network between computers.
Some employees are required to work from home.
You have several branches.
You want to be in control of your business even while on vacation.
It is necessary to work in the program at any time of the day.
You want a powerful server without the big expense.
Calculate the cost of a virtual server

You pay only once for the program itself. And for the cloud payment is made every month.
5. Sign contract
Send the details of the organization or just your passport to conclude an agreement. The contract is your guarantee that you will get what you need. Contract
The signed contract will need to be sent to us as a scanned copy or as a photograph. We send the original contract only to those who need a paper version.
6. Pay with a card or other method
Your card may be in a currency that is no in the list. It's not a problem. You can calculate the cost of the program in US dollars and pay in your native currency at the current rate. To pay by card, use the website or mobile application of your bank.
Bank transfer



Bank transfer

Payment by card



Payment by card

Pay via PayPal



Pay via PayPal

International transfer Western Union or any other



Western Union
Automation from our organization is a complete investment for your business!
These prices are valid for the first purchase only
We use only advanced foreign technologies, and our prices are available to everyone
Compare configurations of the program
Popular choice

Economical
Standard
Professional
Main functions of the selected program Watch the video

All videos can be viewed with subtitles in your own language

Multi-user operation mode when purchasing more than one license Watch the video
Support for different languages Watch the video
Support of hardware: barcode scanners, receipt printers, label printers Watch the video
Using modern methods of mailing: Email, SMS, Viber, voice automatic dialing Watch the video
Ability to configure automatic filling of documents in Microsoft Word format Watch the video
Possibility to customize toast notifications Watch the video
Choosing a program design Watch the video
Ability to customize data import into tables Watch the video
Copying of the current row Watch the video
Filtering data in a table Watch the video
Support for grouping mode of rows Watch the video
Assigning images for more visual presentation of information Watch the video
Augmented reality for even more visibility Watch the video
Temporarily hiding certain columns by each user for himself Watch the video
Permanently hiding specific columns or tables for all users of a specific role Watch the video
Setting rights for roles to be able to add, edit and delete information Watch the video
Selecting fields to search for Watch the video
Configuring for different roles the availability of reports and actions Watch the video
Export data from tables or reports to various formats Watch the video
Possibility to use the Data Collection Terminal Watch the video
Possibility to customize a professional backup your database Watch the video
Audit of user actions Watch the video
Back to pricing

Rent of a virtual server. Price
When do you need a cloud server?
Rent of a virtual server is available both for buyers of "Universal Accounting System" as an additional option, and as a separate service. The price does not change. You can order a cloud server rental if:
You have more than one user, but there is no local network between computers.
Some employees are required to work from home.
You have several branches.
You want to be in control of your business even while on vacation.
It is necessary to work in the program at any time of the day.
You want a powerful server without the big expense.
If you are hardware savvy
If you are hardware savvy, then you can select the required specifications for the hardware. You will immediately be calculated the price for renting a virtual server of the specified configuration.
If you don't know anything about hardware
If you are not technically savvy, then just below:
In paragraph number 1, indicate the number of people who will work in your cloud server.
Next decide what is more important to you:

If it's more important to rent the cheapest cloud server, then don't change anything else. Scroll down this page, there you will see the calculated cost for renting a server in the cloud.
If the cost is very affordable for your organization, then you can improve performance. In step #4, change the server performance to high.
Hardware configuration
JavaScript is disabled, calculation is not possible, contact the developers for a price list
Order an advertisement in email distribution
Advertising in email campaigns is currently used by a large number of different types of companies, enterprises and organizations, since it is very effective in promoting any goods and services, and is also capable of attracting new customers, attracting them with various easy-to-view materials. As a rule, it occupies a rather important place in marketing activities, and therefore it is not at all surprising that now they always try to pay a lot of attention, forces and resources to it. It is also worth noting that its active use and competent application in practice can have a good effect on the quality of service, financial performance and brand awareness, which, in turn, is also an important factor for achieving business success.
Usually, email advertising is carried out using additional attachments: pictures, images, photos, presentations, videos, etc. This allows you to convey important information for the client in the most visual clear way and at the same time show, for example, those goods or things that at the moment some player in the commercial market offers to buy. In the latter case, by the way, it can be an electronic equipment store, a car dealership, a grocery chain, a distributor of food additives, and a shopping and entertainment center. At the same time, this kind of letters are sent most often before popular events or events: like mass sales, promotional events, holiday evenings.
It is also necessary to highlight the fact that it is recommended to engage in advertising in the Email campaign because of its effectiveness and efficiency: today it is surely one of the most popular marketing tools, and its conversion sometimes reaches almost 50% !!! In addition, according to a study by one well-known magazine, according to the ROI calculation scheme, for every $ 1 of investment there is about $ 28.
Another positive point here is that with the help of it it is possible to reach a huge number of Internet users, which, of course, greatly increases the chances of attracting new customers, and also it becomes possible to save a significant amount of money, since such methods usually do not require serious investments. and investment: compared to other options. Plus, some positive features are that with the right approach, management will be able to actively communicate with the target audience, which is interested in advance in certain goods, services, things, offers, etc.
Universal accounting systems have excellent tools for organizing various types of mailings: both individual and bulk. Moreover, using these softwares, it will be possible to perform the necessary actions quickly enough and without any problems, since the managers will immediately come to the rescue here: intuitive functional solutions, clear commands, hot keys, convenient service windows, and advanced automatic modes ... The latter, in particular, includes just the function of mathematical numerical calculation, which will be especially effective when you need to quickly calculate the monetary costs of sending bulk letters through paid services.
Many dividends and benefits of the program from the USU brand will also bring in the fact that they are built in numerous informative reports, statistical summaries, comparison tables, detailed charts and demo diagrams. Due to all of them, the entire activity of the company will be significantly and tangibly facilitated, because now managers and employees will have the most relevant information at their disposal: on the expediency of conducting any mass or individual mailings, the success of existing marketing campaigns, the effectiveness of individual employees and managers, financial income items , advertising revenue dynamics, return on investment in paid e-mail services, cellular operators or instant messengers.
The program for SMS messaging generates templates, on the basis of which you can send messages.
The program for sending announcements will help to keep your clients always up to date with the latest news!
The email newsletter program is available to be sent to customers all over the world.
The program for calling clients can call on behalf of your company, transmitting the necessary message for the client in voice mode.
You can download the program for mailing in the form of a demo version to test the functionality from the website of Universal Accounting System.
When sending bulk SMS, the program for sending SMS pre-calculates the total cost of sending messages and compares it with the balance on the account.
Viber mailing software allows mailing in a convenient language if it is necessary to interact with foreign clients.
The program for SMS over the Internet allows you to analyze the delivery of messages.
The free program for mailing to e-mail sends messages to any e-mail addresses that you choose for mailing from the program.
A free SMS messaging program is available in test mode, the purchase of the program itself does not include the presence of monthly subscription fees and is paid for once.
The mailing program allows you to attach various files and documents in an attachment, which are generated automatically by the program.
The free dialer is available as a demo version for two weeks.
A program for sending SMS will help you send a message to a specific person, or make a mass mailing to several recipients.
SMS software is an irreplaceable assistant for your business and interaction with clients!
The automated messaging program consolidates the work of all employees in a single program database, which increases the productivity of the organization.
Mailing and accounting of letters is carried out through the mailing of e-mail for clients.
To notify customers about discounts, report debts, send out important announcements or invitations, you will definitely need a program for letters!
The program for outgoing calls can be changed according to the individual wishes of the customer by the developers of our company.
The program for sending letters to phone numbers is executed from an individual record on the sms server.
The program for mass mailing will eliminate the need to form identical messages to each client separately.
The program for sending SMS from a computer analyzes the status of each sent message, determining whether it was delivered or not.
The viber messaging program allows you to form a single customer base with the ability to send messages to the Viber messenger.
A free program for email distribution in the trial mode will help you see the program's capabilities and familiarize yourself with the interface.
The virtual format of organizing the documentation turnover will not only facilitate the creation of new text materials, but also eliminate confusion in the systematization or sorting of all available service information.
Downloading the accounting computer software will take only a small amount of time, and its further operation will require small resources of the personal computer's RAM.
You can safely register the mail server you need at the moment, and then start sending advertisements to many recipients.
Automatic calculation will allow you to calculate the cash costs for paid notifications or alerts that are carried out through business accounts for entrepreneurs: in Email, Viber, Call Voice, SMS and so on.
Taking into account the marketing nature will show the effectiveness of various advertising campaigns, promotional events, large events. This will help you find out, for example, which types of Bulk Alerts are most useful and what kind of notifications should be used in the very near future.
When setting up Email campaigns associated with any advertising, the user can configure various parameters: sender names, servers, ports, logins, encodings.
Thanks to backup, management will be able to periodically save a single information base and thereby guarantee data security.
In addition to organizing the sending of email messages for advertising, it is possible to use other methods: for example, the Viber messenger. In this case, which is good, you will have to pay mostly only for delivered and read messages (if you have a business account).
Free test versions of universal accounting systems are available for download on the USU website. There, users can familiarize themselves with a variety of articles, materials and interesting entries.
The financial audit, including the costs of advertising, marketing, mailing, Email servers and paid services, will be facilitated by appropriate thoughtful tools. With the help of it, the analysis of the specified information will be as high-quality and easy as possible.
During the formation of a unified customer base, you will also be able to track and record the consent of people to collect, analyze and process data, that is, take into account their consent to receive emails, telephone messages and other files for advertising.
You will be able to create and compose your own options for templates for Email letters. In this case, subsequently, the process of interaction with the target audience will be noticeably easier, because if necessary, it will be possible to quickly send any ready-made proposal.
A single database will provide a chance to register a huge number of customers, suppliers and contractors. Here the user of the program will be able to record contact information, write down personal details, edit existing files, divide previously entered materials into various categories and groups, create their own lists and lists.
Visualization of the status of sending messages and letters implies a better perception of information, since managers will immediately be able to find: successfully delivered electronic files or those still pending.
The program designed for organizing email campaigns for advertising is capable of storing archives of sent text elements and other files. Thanks to this, later you will be able to view the necessary letters, messages and records.