Rating:
4.9
. Number of organizations:
768

Countries:
All
Operating system:
Windows, Android, macOS
Group of programs:
USU software
Purpose:
Business automation
accounting of a request
Copyright protects the unique methods of business automation that are used in our programs.



Copyright

We are a verified software publisher. This is displayed in the operating system when running our programs and demo-versions.



Verified publisher

We work with organizations around the world from small businesses to large ones. Our company is included in the international register of companies and has an electronic trust mark.



Sign of trust
Quick transition.
What do you want to do now?
Program screenshot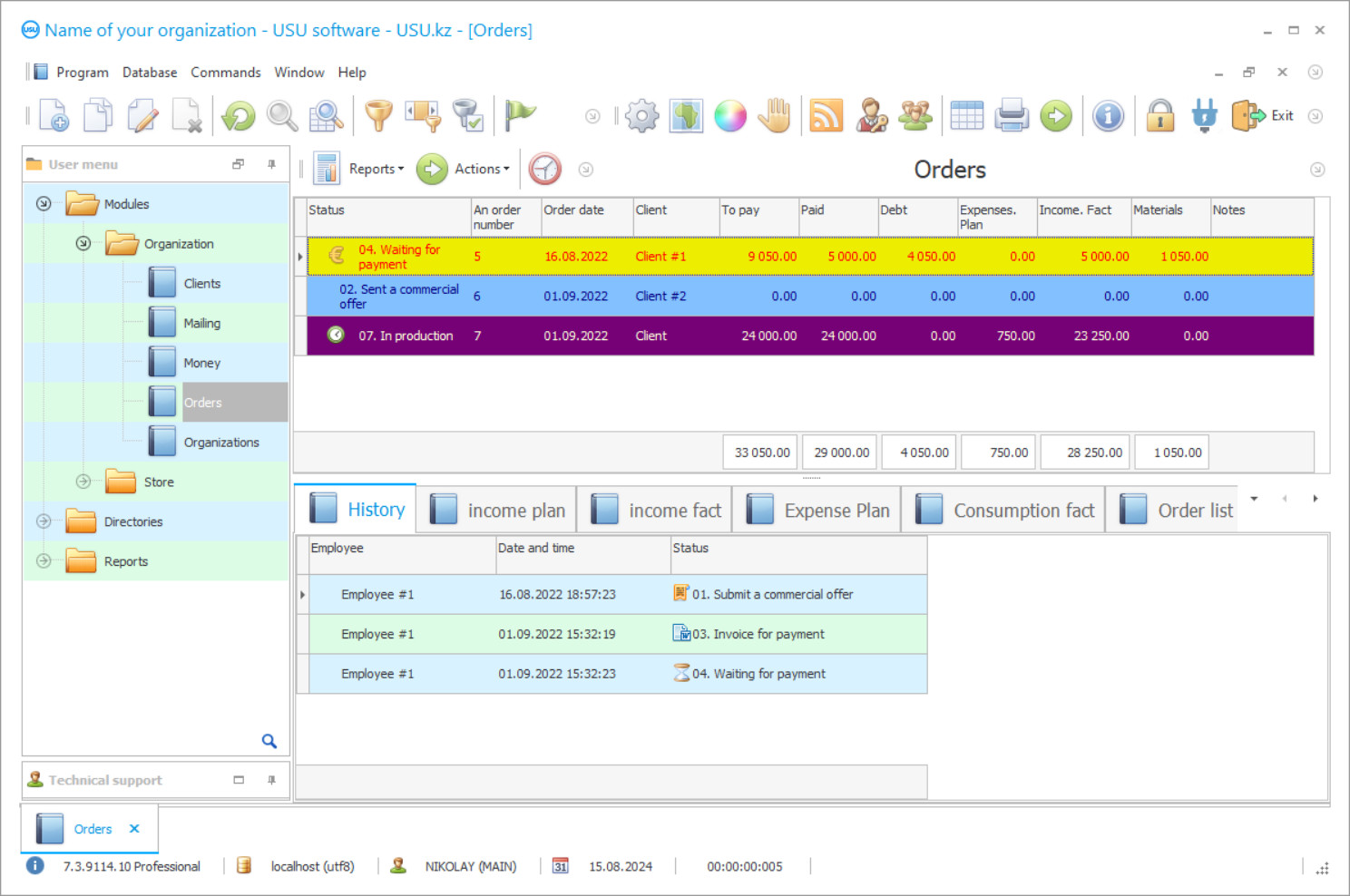 Download demo version
When starting the program, you can select the language.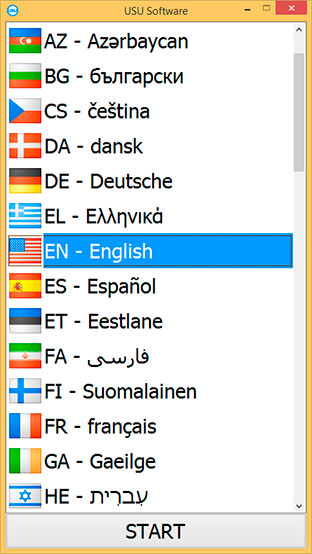 Premium-class program at an affordable price
1. Compare Configurations
Compare configurations of the program

2. Choose a currency
3. Calculate the cost of the program
4. If necessary, order a virtual server rental
In order for all your employees to work in the same database, you need a local network between computers (wired or Wi-Fi). But you can also order the installation of the program in the cloud if:
You have more than one user, but there is no local network between computers.



No local area network

Some employees are required to work from home.



Work from home

You have several branches.



There are branches

You want to be in control of your business even while on vacation.



Control from vacation

It is necessary to work in the program at any time of the day.



Work at any time

You want a powerful server without the big expense.



Powerful server
Calculate the cost of a virtual server

You pay only once for the program itself. And for the cloud payment is made every month.
5. Sign contract
Send the details of the organization or just your passport to conclude an agreement. The contract is your guarantee that you will get what you need. Contract
The signed contract will need to be sent to us as a scanned copy or as a photograph. We send the original contract only to those who need a paper version.
6. Pay with a card or other method
Your card may be in a currency that is no in the list. It's not a problem. You can calculate the cost of the program in US dollars and pay in your native currency at the current rate. To pay by card, use the website or mobile application of your bank.
Bank transfer



Bank transfer

Payment by card



Payment by card

Pay via PayPal



Pay via PayPal

International transfer Western Union or any other



Western Union
Automation from our organization is a complete investment for your business!
These prices are valid for the first purchase only
We use only advanced foreign technologies, and our prices are available to everyone
Compare configurations of the program
Popular choice

Economical
Standard
Professional
Main functions of the selected program Watch the video

All videos can be viewed with subtitles in your own language

Multi-user operation mode when purchasing more than one license Watch the video
Support for different languages Watch the video
Support of hardware: barcode scanners, receipt printers, label printers Watch the video
Using modern methods of mailing: Email, SMS, Viber, voice automatic dialing Watch the video
Ability to configure automatic filling of documents in Microsoft Word format Watch the video
Possibility to customize toast notifications Watch the video
Choosing a program design Watch the video
Ability to customize data import into tables Watch the video
Copying of the current row Watch the video
Filtering data in a table Watch the video
Support for grouping mode of rows Watch the video
Assigning images for more visual presentation of information Watch the video
Augmented reality for even more visibility Watch the video
Temporarily hiding certain columns by each user for himself Watch the video
Permanently hiding specific columns or tables for all users of a specific role Watch the video
Setting rights for roles to be able to add, edit and delete information Watch the video
Selecting fields to search for Watch the video
Configuring for different roles the availability of reports and actions Watch the video
Export data from tables or reports to various formats Watch the video
Possibility to use the Data Collection Terminal Watch the video
Possibility to customize a professional backup your database Watch the video
Audit of user actions Watch the video
Back to pricing

Rent of a virtual server. Price
When do you need a cloud server?
Rent of a virtual server is available both for buyers of "Universal Accounting System" as an additional option, and as a separate service. The price does not change. You can order a cloud server rental if:
You have more than one user, but there is no local network between computers.
Some employees are required to work from home.
You have several branches.
You want to be in control of your business even while on vacation.
It is necessary to work in the program at any time of the day.
You want a powerful server without the big expense.
If you are hardware savvy
If you are hardware savvy, then you can select the required specifications for the hardware. You will immediately be calculated the price for renting a virtual server of the specified configuration.
If you don't know anything about hardware
If you are not technically savvy, then just below:
In paragraph number 1, indicate the number of people who will work in your cloud server.
Next decide what is more important to you:

If it's more important to rent the cheapest cloud server, then don't change anything else. Scroll down this page, there you will see the calculated cost for renting a server in the cloud.
If the cost is very affordable for your organization, then you can improve performance. In step #4, change the server performance to high.
Hardware configuration
JavaScript is disabled, calculation is not possible, contact the developers for a price list
Order an accounting of a request
When ordering, it is necessary to keep records of a customer request, because the quality of work and the timing of their implementation, as well as the success of the enterprise, depend on this. It is not always convenient, fast, and efficient to receive applications and record applications on paper. After all, this is already an outdated accounting option, because today everything is automated electronically. When using automated electronic programs, you not only automate production processes, reduce financial and time costs, but also expand your customer base, increase profitability and productivity. Do not delay the implementation of an automated application, and also be careful when choosing, given the large selection and variety, both in terms of settings and pricing. Remember that accounting by request should be not only easy but also versatile, optimizing production processes, as well as convenient and fast. There is a large selection on the market, but one of the best remains our automated utility USU Software system, with an easy-to-understand interface and cost. The low pricing policy of our company is not all the savings, because there is no subscription fee, which not every developer of a high-tech utility can provide. Also, our development is multi-user, allowing employees to have one-time access from various departments and branches, having access to the necessary materials, based on differentiated rights, for reliable protection of information data stored in a single accounting system. It is also worth noting that you no longer need to spend a lot of time looking for the files and information you need, because everything is automatically saved on a remote server, and you can find them through a contextual search engine. The data is regularly updated to avoid confusion and errors. By the way, regarding errors. You no longer need to worry about the quality of the entered information, because there is an import of data from various sources. Also, importing minimizes the time and effort of employees, which again is beneficial to the organization. The manager can increase efficiency, monitor the work of employees and the success of the enterprise, when receiving reports on the tracking of working hours and statistical request data on orders and profitability of the enterprise, analyzing customer request and their growth. Acceptance of payments, for convenience and efficiency, can be performed in cash and non-cash methods. You can endlessly list the advantages of the USU Software orders request accounting, but why spend so much time, because you can independently test the utility and get to know the modules and capabilities closer, and completely free of charge, by installing the demo version. For additional questions, our specialists happy to advise you or follow the link to our website and receive detailed information on the desired questions. Automation of work on the accounting of calls, with the help of our universal system, becomes easier and faster, clearer and better. Information request data processing is automated and working hours optimized. An electronic recording request accounting system allows conveniently and permanently entering and saving information data. Materials can be automatically saved to the desired tables. The use of various document formats also allows downloading data from different sources. Prompt request search or other information using a contextual search engine. Automatic data entry optimizes the working time of employees. The notification system allows reminding about important events in time. Time tracking makes it possible to coordinate and discipline employees, analyzing the quality and time of work, and calculating wages. SMS messages are used not only to provide information but also to receive feedback, feedback on the quality of work, when contacting, keeping accounting records in separate journals. Automatic distribution of duties between employees, taking into account the received request. Changes can be made in the request, taking into account the maintenance of electronic journals, tracking the status of their execution. In the accounting program, you can store information in unlimited volumes. The application provides the differentiation of user rights. Personalization and privacy are provided to each user. Convenient configuration settings. Use of convenient payment systems, both in cash and non-cash. A free demo version is available. Nice and user-friendly interface, easily customizable and adaptable to each user. Nowadays, effective customer relationship accounting is gradually becoming successful being and further growth of modern enterprises strategy. The focus of enterprises on improving client communications is due to many tendencies, in particular, increased rivalry, increased customer requirements for the property of materials offered and the grade of service, a reduction in the effectiveness of traditional marketing options, as well as the appearance of new technologies for interaction with customers and the functioning of enterprise divisions. That is why the trouble of organizing and ensuring efficient work with clients is very immediate. This imposes its requirements on the capacity of service, and first of all on such aspects as the speed of customer service, the absence of mistakes, and the availability of data about the customer's previous contact. Such demands can only be met by using an automated information processing accounting application. In the modern accounting system market, there are a large number of programs for recording a user request, calculating the number of abatements and benefits, but most of them are focused on a too broad subject place and do not take into account the specs of a particular company. Some of them lack the needful functionality, some have 'odd' options for which there is no point in paying, all this necessitates the individual growth of the system for the needs of the company. But, in a specially designed product from the USU Software, you will use only the most needful and useful accounting functions for you and your clients.