Rating:
4.9
. Number of organizations:
570

Countries:
All
Operating system:
Windows, Android, macOS
Group of programs:
USU software
Purpose:
Business automation
Program for transport logistic
Copyright protects the unique methods of business automation that are used in our programs.



Copyright

We are a verified software publisher. This is displayed in the operating system when running our programs and demo-versions.



Verified publisher

We work with organizations around the world from small businesses to large ones. Our company is included in the international register of companies and has an electronic trust mark.



Sign of trust
Quick transition.
What do you want to do now?
Program screenshot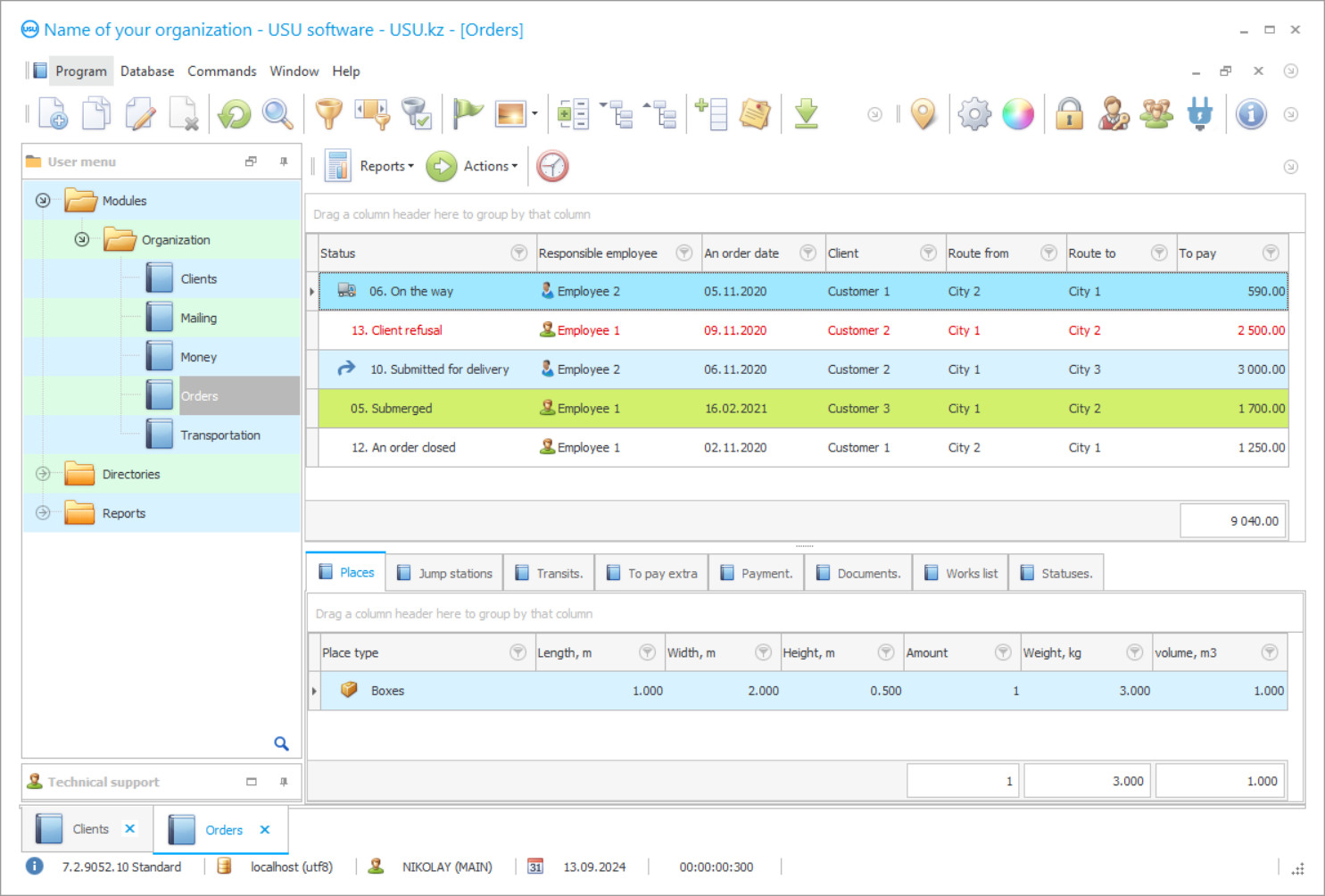 Download demo version
When starting the program, you can select the language.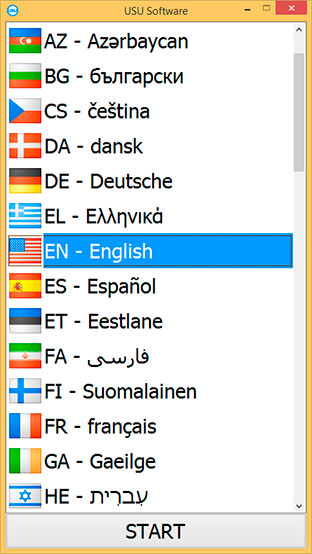 Instruction manual
Premium-class program at an affordable price
1. Compare Configurations
Compare configurations of the program

2. Choose a currency
3. Calculate the cost of the program
4. If necessary, order a virtual server rental
In order for all your employees to work in the same database, you need a local network between computers (wired or Wi-Fi). But you can also order the installation of the program in the cloud if:
You have more than one user, but there is no local network between computers.



No local area network

Some employees are required to work from home.



Work from home

You have several branches.



There are branches

You want to be in control of your business even while on vacation.



Control from vacation

It is necessary to work in the program at any time of the day.



Work at any time

You want a powerful server without the big expense.



Powerful server
Calculate the cost of a virtual server

You pay only once for the program itself. And for the cloud payment is made every month.
5. Sign contract
Send the details of the organization or just your passport to conclude an agreement. The contract is your guarantee that you will get what you need. Contract
The signed contract will need to be sent to us as a scanned copy or as a photograph. We send the original contract only to those who need a paper version.
6. Pay with a card or other method
Your card may be in a currency that is no in the list. It's not a problem. You can calculate the cost of the program in US dollars and pay in your native currency at the current rate. To pay by card, use the website or mobile application of your bank.
Bank transfer



Bank transfer

Payment by card



Payment by card

Pay via PayPal



Pay via PayPal

International transfer Western Union or any other



Western Union
Automation from our organization is a complete investment for your business!
These prices are valid for the first purchase only
We use only advanced foreign technologies, and our prices are available to everyone
Compare configurations of the program
Popular choice

Economical
Standard
Professional
Main functions of the selected program Watch the video

All videos can be viewed with subtitles in your own language

Multi-user operation mode when purchasing more than one license Watch the video
Support for different languages Watch the video
Support of hardware: barcode scanners, receipt printers, label printers Watch the video
Using modern methods of mailing: Email, SMS, Viber, voice automatic dialing Watch the video
Ability to configure automatic filling of documents in Microsoft Word format Watch the video
Possibility to customize toast notifications Watch the video
Choosing a program design Watch the video
Ability to customize data import into tables Watch the video
Copying of the current row Watch the video
Filtering data in a table Watch the video
Support for grouping mode of rows Watch the video
Assigning images for more visual presentation of information Watch the video
Augmented reality for even more visibility Watch the video
Temporarily hiding certain columns by each user for himself Watch the video
Permanently hiding specific columns or tables for all users of a specific role Watch the video
Setting rights for roles to be able to add, edit and delete information Watch the video
Selecting fields to search for Watch the video
Configuring for different roles the availability of reports and actions Watch the video
Export data from tables or reports to various formats Watch the video
Possibility to use the Data Collection Terminal Watch the video
Possibility to customize a professional backup your database Watch the video
Audit of user actions Watch the video
Back to pricing

Rent of a virtual server. Price
When do you need a cloud server?
Rent of a virtual server is available both for buyers of "Universal Accounting System" as an additional option, and as a separate service. The price does not change. You can order a cloud server rental if:
You have more than one user, but there is no local network between computers.
Some employees are required to work from home.
You have several branches.
You want to be in control of your business even while on vacation.
It is necessary to work in the program at any time of the day.
You want a powerful server without the big expense.
If you are hardware savvy
If you are hardware savvy, then you can select the required specifications for the hardware. You will immediately be calculated the price for renting a virtual server of the specified configuration.
If you don't know anything about hardware
If you are not technically savvy, then just below:
In paragraph number 1, indicate the number of people who will work in your cloud server.
Next decide what is more important to you:

If it's more important to rent the cheapest cloud server, then don't change anything else. Scroll down this page, there you will see the calculated cost for renting a server in the cloud.
If the cost is very affordable for your organization, then you can improve performance. In step #4, change the server performance to high.
Hardware configuration
JavaScript is disabled, calculation is not possible, contact the developers for a price list
Order a program for transport logistic
Is a free application for logistics a reality or is it impossible to get something really worthwhile for free? We will try to answer this question in this article. The short answer is yes — it is real. But the question is, how effective is this kind of program, and is it any good at all? The software development team of the USU Software gives an unambiguous answer — only demo versions of the good programs can be free. Full versions of such programs are always a paid product and the USU Software is no exception to that.
The demo version of the USU Software includes all the basic functionality that any business might need. However, the demo version has a limited trial period and thus is not suitable for long-term transport logistics automation. The purpose of distribution is for informational purposes only. Our program can be downloaded for free and you can familiarize yourself with its functionality in the course of two full weeks of the trial period. You can find the demo version on our official website. In order to purchase the full version, contact the technical support team using requisites that can also be found on the website. All detailed information about the capabilities of the application is found there as well.
It is not reasonable to use free programs for transport logistics. Programs like this can't ensure the full implementation of automation for all tasks that stand before the enterprise that needs the most precise management any transport and logistic company needs. For example, if you purchase an application from developers of the USU Software, you get an excellent opportunity to track the work of the company as a whole, and for each employee individually. The program is equipped with functionality for tracking employees' working hours. Each task performed by the employee is recorded. As well as the time spent on it and the quality of the work provided.
If you need a program for transport logistics, it is unreasonable to just try to download it for free, but your business does not have huge budgets yet, we can offer you our solution for automating transport logistics, for a low price, yet with a huge variety of useful functions. For example, with the help of the USU Software, you will be able to track all deliveries in real-time. But the functionality of the program for transport logistic management does not just stop there.
The utility database contains comprehensive information regarding transport logistics. You will be able to quickly access the information that is stored in the program's database. For example information about the recipient and the sender of the parcel, characteristics of the product, its size, weight, and so on. In addition, you can request the value of the cargo, the location of the delivery on the map, and the date of dispatch.
The transport logistics management program, which can be downloaded for free as a demo version, has a number of advantages over completely free applications. The program that you download for free will not be able to provide such coverage in terms of functions that the USU Software is capable of. Furthermore, in terms of the ratio of different parameters such as price-quality, even among non-free applications, our utility still stands out. The new generation of transport logistics accounting program from the USU Software team will perfectly fit into the structure of cargo transportation companies and any other logistic agencies.
Free transport logistics applications will not be able to track multimodal shipments with sufficient efficiency. And the USU Software will perfectly handle the task of tracking the transport route of cargo, types of delivery, and is able to sort them by used transport. When it comes to our program, it does not matter what kind of transport the company uses when moving goods. Whether it's air transport, railway, trucks, ships, or multimodal transportation — our program will be efficient and quick in completing all of its tasks. Other features of the program that will help with transport logistics at any enterprise include such advantages as the ability to categorize transport and deliveries by type, depending on the size of the cargo and amount of goods at the transport.
If the organization does not have many overseas branches, and the volume of transported goods is not too large, it is necessary to purchase a version for a small company, while there is also an option for logistic enterprises that have branches in different countries. A utility program for transport logistics that you can download for free only in the form of a demo version will work for a limited amount of time.
Free logistics programs offer only a limited time of usage. Buying a licensed version of the application for a very price, you get a perfectly optimized program for managing the office work in the field of transportation of goods and passengers. The USU Software is so versatile that it is suitable for the automation of any logistics company.
When you first run the utility, you will need to register and authorize it in the system. After logging in the user is offered a choice of numerous preset designs, that will help them to personalize their workplace. After choosing design and personalization themes, the operator proceeds to the choice of functionality and interface settings. All changes are being saved in a personal account and during subsequent authorizations, there is no need to configure everything again later. For each individual user, their own personal account is created, with its personal settings.
Free programs are not adapted to huge amounts of work, so it is better and more profitable to immediately purchase a paid, efficiently working program that will help you complete all the tasks assigned to you. In the USU Software, all functions are arranged in order, the information is saved in the appropriate folders, in which it is easy to find the block of information of interest. Free programs for logistics will not be able to help you carry out a mass mailing of the selected target audience, but our program can easily handle this task. It is enough just to make a targeted selection of contacts and record a message. The application will perform further actions in an automated manner, which will reduce a lot of expenses.
The implementation and use of our program allow you to reduce the number of employees that are required for your enterprise dramatically. You can download and start using the transport logistics program right now, without postponing the optimization of the office work. By paying a very small amount of money to purchase the USU Software, you save huge amounts of money on maintaining an overly bloated staff of workers.
Our program for transport logistics, which you can download for free on USU Software's website in a form of a demo version, has a modular device scheme, which makes it easier for operators to work with it. You can download and use the program quickly and without any complications. To purchase a licensed version of the application, please contact the specialists of our company. All contacts are listed on the official website of our company.