Rating:
4.9
. Number of organizations:
800

Countries:
All
Operating system:
Windows, Android, macOS
Group of programs:
USU software
Purpose:
Business automation
Accounting for the forwarder
Copyright protects the unique methods of business automation that are used in our programs.



Copyright

We are a verified software publisher. This is displayed in the operating system when running our programs and demo-versions.



Verified publisher

We work with organizations around the world from small businesses to large ones. Our company is included in the international register of companies and has an electronic trust mark.



Sign of trust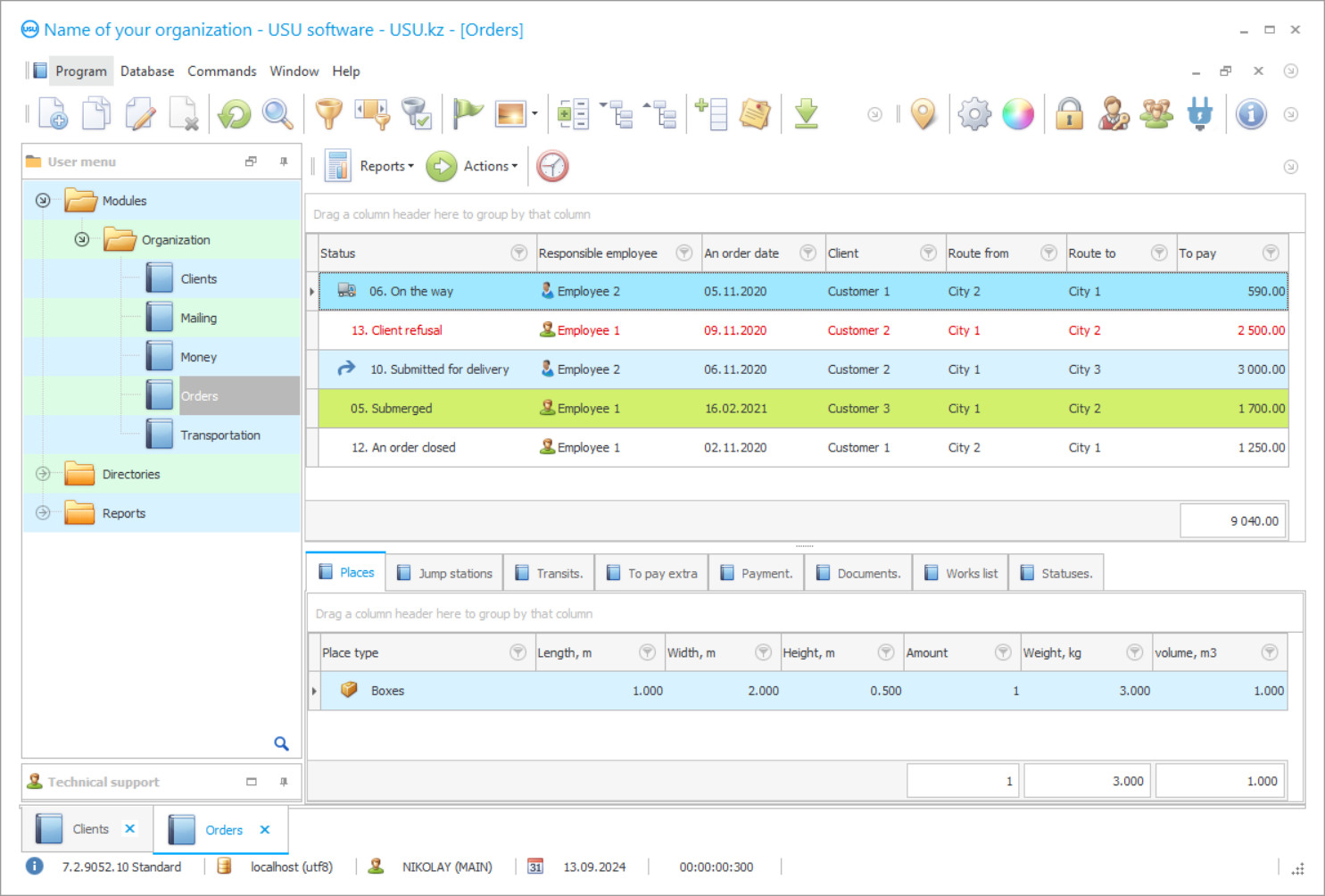 Download demo version
Instruction manual
When starting the program, you can select the language.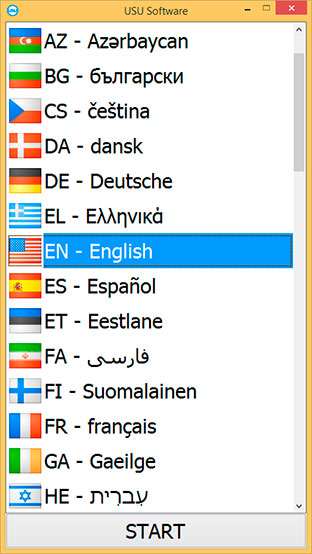 Premium-class program at an affordable price
1. Compare Configurations
Compare configurations of the program

2. Choose a currency
3. Calculate the cost of the program
4. If necessary, order a virtual server rental
In order for all your employees to work in the same database, you need a local network between computers (wired or Wi-Fi). But you can also order the installation of the program in the cloud if:
You have more than one user, but there is no local network between computers.



No local area network

Some employees are required to work from home.



Work from home

You have several branches.



There are branches

You want to be in control of your business even while on vacation.



Control from vacation

It is necessary to work in the program at any time of the day.



Work at any time

You want a powerful server without the big expense.



Powerful server
Calculate the cost of a virtual server

You pay only once for the program itself. And for the cloud payment is made every month.
5. Sign contract
Send the details of the organization or just your passport to conclude an agreement. The contract is your guarantee that you will get what you need. Contract
The signed contract will need to be sent to us as a scanned copy or as a photograph. We send the original contract only to those who need a paper version.
6. Pay with a card or other method
Your card may be in a currency that is no in the list. It's not a problem. You can calculate the cost of the program in US dollars and pay in your native currency at the current rate. To pay by card, use the website or mobile application of your bank.
Bank transfer



Bank transfer

Payment by card



Payment by card

Pay via PayPal



Pay via PayPal

International transfer Western Union or any other



Western Union
Automation from our organization is a complete investment for your business!
These prices are valid for the first purchase only
We use only advanced foreign technologies, and our prices are available to everyone
Compare configurations of the program
Popular choice

Economical
Standard
Professional
Main functions of the selected program Watch the video

All videos can be viewed with subtitles in your own language

Multi-user operation mode when purchasing more than one license Watch the video
Support for different languages Watch the video
Support of hardware: barcode scanners, receipt printers, label printers Watch the video
Using modern methods of mailing: Email, SMS, Viber, voice automatic dialing Watch the video
Ability to configure automatic filling of documents in Microsoft Word format Watch the video
Possibility to customize toast notifications Watch the video
Choosing a program design Watch the video
Ability to customize data import into tables Watch the video
Copying of the current row Watch the video
Filtering data in a table Watch the video
Support for grouping mode of rows Watch the video
Assigning images for more visual presentation of information Watch the video
Augmented reality for even more visibility Watch the video
Temporarily hiding certain columns by each user for himself Watch the video
Permanently hiding specific columns or tables for all users of a specific role Watch the video
Setting rights for roles to be able to add, edit and delete information Watch the video
Selecting fields to search for Watch the video
Configuring for different roles the availability of reports and actions Watch the video
Export data from tables or reports to various formats Watch the video
Possibility to use the Data Collection Terminal Watch the video
Possibility to customize a professional backup your database Watch the video
Audit of user actions Watch the video
Back to pricing

Rent of a virtual server. Price
When do you need a cloud server?
Rent of a virtual server is available both for buyers of "Universal Accounting System" as an additional option, and as a separate service. The price does not change. You can order a cloud server rental if:
You have more than one user, but there is no local network between computers.
Some employees are required to work from home.
You have several branches.
You want to be in control of your business even while on vacation.
It is necessary to work in the program at any time of the day.
You want a powerful server without the big expense.
If you are hardware savvy
If you are hardware savvy, then you can select the required specifications for the hardware. You will immediately be calculated the price for renting a virtual server of the specified configuration.
If you don't know anything about hardware
If you are not technically savvy, then just below:
In paragraph number 1, indicate the number of people who will work in your cloud server.
Next decide what is more important to you:

If it's more important to rent the cheapest cloud server, then don't change anything else. Scroll down this page, there you will see the calculated cost for renting a server in the cloud.
If the cost is very affordable for your organization, then you can improve performance. In step #4, change the server performance to high.
Hardware configuration
JavaScript is disabled, calculation is not possible, contact the developers for a price list
Order accounting for the forwarder
Logistics is a complex and time-consuming process, which involves many interconnected companies and partners: customers, agents of sea and ocean lines, freight forwarders, carriers, logistics agents, as well as vehicle owners. When providing logistics services, it is necessary to monitor the work of each responsible person to ensure the high quality of transportation. Accounting of freight forwarders allows you to structure information about service providers and regulate work with them, thereby contributing to the transparency of all logistics processes, timely identification of deficiencies and the development of improvement measures. The USU-Soft program of forwarder accounting provides you with a set of various tools to improve the organization and make your business successful, as well as coordinate the entire set of transportation processes and effectively develop relations with carriers and increase competitiveness.
The main advantage and difference between the software and a usual 1C program is undoubtedly the automation of work operations and their prompt implementation. Accounting with the USU-Soft freight forwarder program allows users to enter, store and update comprehensive information about transportation service providers, including contact information, documents, as well as to maintain a payment schedule and monitor payments. You will appreciate the difference between our program of forwarder accounting and all other systems, as our software has flexibility and convenience. It also has a stylish interface, and with it you can enjoy the ease of operations; it adapts to the specifics of the business and has a simple and understandable structure consisting of three blocks. The "Directories" section is a database to which information is loaded when performing work operations in an automated mode. The "Modules" section is a workspace where specialists can create requests for transportation and purchase necessary components, draw up routes and calculate flights, as well as track the passage of each section of the route. The "Reports" block allows you to generate and download various financial and management reports for any given period. Such a hierarchy is much clearer and more convenient than accounting of the freight forwarders in 1C programs.
In addition, the work of all departments is synchronized in a single resource. Customer service managers will be able to maintain a customer database, use it to send mailings and monitor the effectiveness of advertising. The logistics department creates requests to initiate the transportation process and draw up the necessary calculations. The transport department is able to monitor the state of equipment and regulate the timely completion of maintenance for the entire fleet of vehicles. Coordinators are able to easily track and mark how each stage of transportation by forwarders is carried out. Top management receives tools both to control the work of all departments and to analyze the data obtained to develop measures in business optimization. Accounting for the company's freight forwarders allows you to eliminate cases of unplanned downtime, parking and expenses, as well as change routes easily and issue new instructions if necessary. Services for prompt communication with carriers via telephony, SMS and e-mail messages are also available, which again favorably distinguishes our software. Accounting of the freight forwarders services allows you to record the actual costs incurred by each driver and thereby help to correctly calculate the amount payable by each client, taking into account all expenses.
Assessment of the involvement of each responsible department is possible with the accounting application, as well as analysis of the time spent on approval and improvement of work organization. Consolidated information on all branches and divisions of the enterprise is collected in time, as well as data on all logistics service providers and warehouses. We offer you a convenient accounting system for forwarders assistance both in large companies and in small enterprises due to the flexibility of settings. When your employee needs to perform a task, he or she gets an alert to do so. All documents are generated automatically, such as transportation approval, vehicle data sheets, and maintenance papers. The accounting system for forwarders makes all the processes simple and prompt, taking into account the fuel cards issued to drivers, fuel consumption standards, planned mileage, timely replacement of fluids and spare parts. A distinctive feature of the accounting program for forwarders is the ability to draw up weekly schedules of loading and unloading in the context of customers, forwarders, routes, points of departure and destinations. A detailed and visual working diagram of each flight is presented to each user: who ordered the transportation, the readiness of the vehicle, what places of shipment and delivery, who accepts the cargo, whether payment has been made and so on.
Thanks to the application, you control the receipt of payments, cash flow, and debt management. Conducting comprehensive financial analytics is easy thanks to reports of varying complexity, presentation of data in the form of graphs and diagrams in the context of business areas, vehicles, costs, etc. With the accounting system you conduct operational management accounting to develop measures to optimize the company's activities. As for integration features, the software can be integrated with the website of your organization. If you want to evaluate the performance of each employee, then audit of personnel with the software, as well as find the best specialists in your organization. Develop relationships with customers and maintain a full-fledged CRM database, as well as conduct analysis of the performance of client managers. The ability to store templates for contracts and other documents simplifies and speeds up the process of drawing up and signing contracts.