Rating:
4.9
. Number of organizations:
800

Countries:
All
Operating system:
Windows, Android
Group of programs:
USU software
Purpose:
Business automation
Accounting for the forwarder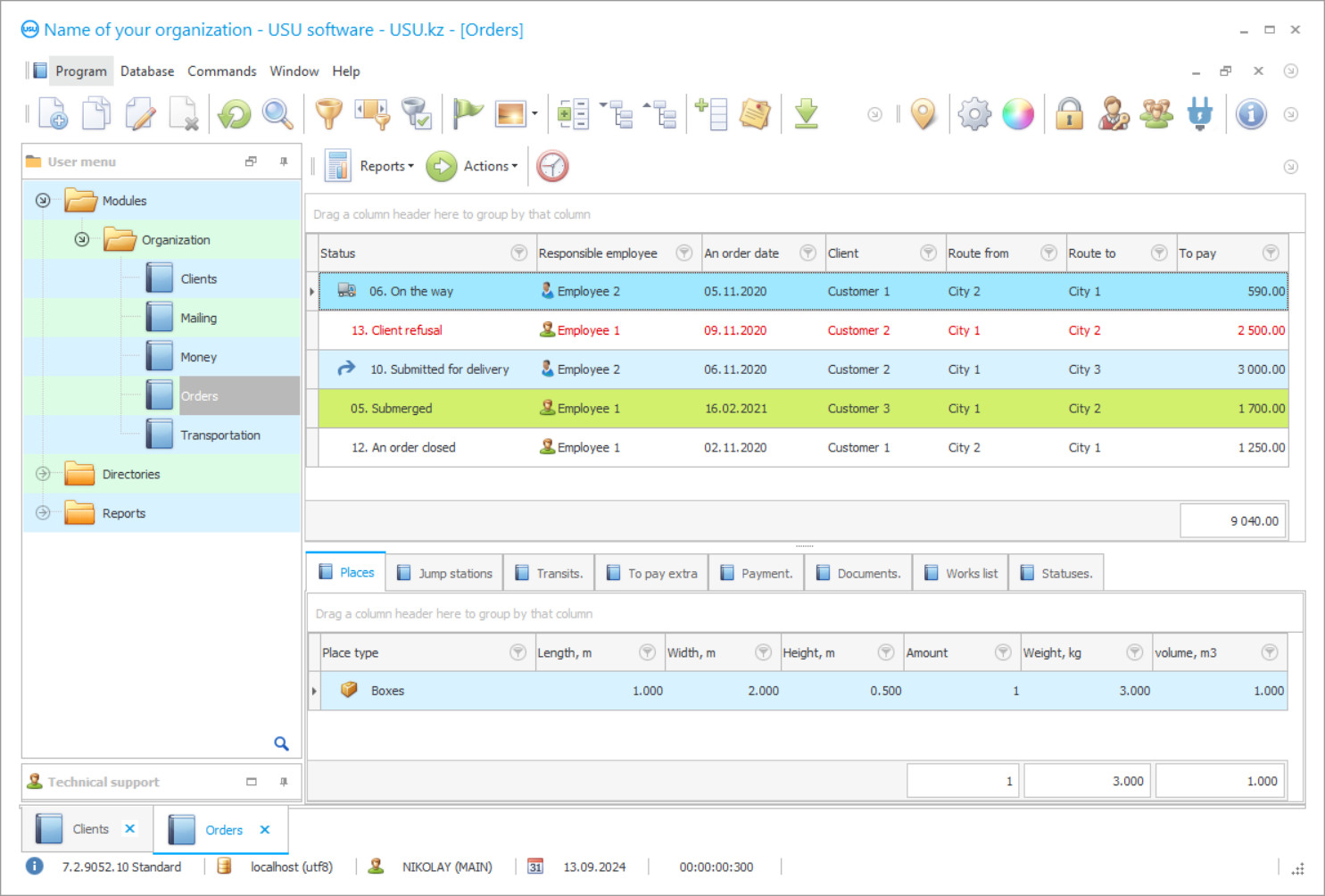 Download demo version
When starting the program, you can select the language.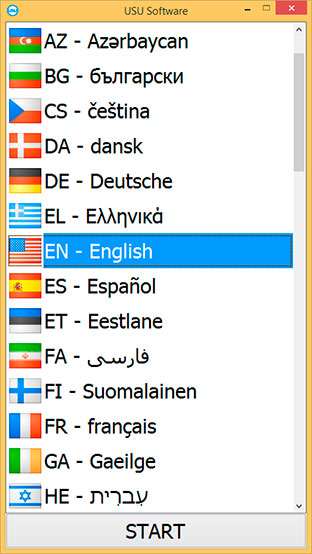 Software price
Order accounting for the forwarder
Logistics is a complex and time-consuming process, which involves many interconnected companies and partners: customers, agents of sea and ocean lines, freight forwarders, carriers, logistics agents, as well as vehicle owners. When providing logistics services, it is necessary to monitor the work of each responsible person to ensure the high quality of transportation. Accounting of freight forwarders allows you to structure information about service providers and regulate work with them, thereby contributing to the transparency of all logistics processes, timely identification of deficiencies and the development of improvement measures. The USU-Soft program of forwarder accounting provides you with a set of various tools to improve the organization and make your business successful, as well as coordinate the entire set of transportation processes and effectively develop relations with carriers and increase competitiveness.
The main advantage and difference between the software and a usual 1C program is undoubtedly the automation of work operations and their prompt implementation. Accounting with the USU-Soft freight forwarder program allows users to enter, store and update comprehensive information about transportation service providers, including contact information, documents, as well as to maintain a payment schedule and monitor payments. You will appreciate the difference between our program of forwarder accounting and all other systems, as our software has flexibility and convenience. It also has a stylish interface, and with it you can enjoy the ease of operations; it adapts to the specifics of the business and has a simple and understandable structure consisting of three blocks. The "Directories" section is a database to which information is loaded when performing work operations in an automated mode. The "Modules" section is a workspace where specialists can create requests for transportation and purchase necessary components, draw up routes and calculate flights, as well as track the passage of each section of the route. The "Reports" block allows you to generate and download various financial and management reports for any given period. Such a hierarchy is much clearer and more convenient than accounting of the freight forwarders in 1C programs.
In addition, the work of all departments is synchronized in a single resource. Customer service managers will be able to maintain a customer database, use it to send mailings and monitor the effectiveness of advertising. The logistics department creates requests to initiate the transportation process and draw up the necessary calculations. The transport department is able to monitor the state of equipment and regulate the timely completion of maintenance for the entire fleet of vehicles. Coordinators are able to easily track and mark how each stage of transportation by forwarders is carried out. Top management receives tools both to control the work of all departments and to analyze the data obtained to develop measures in business optimization. Accounting for the company's freight forwarders allows you to eliminate cases of unplanned downtime, parking and expenses, as well as change routes easily and issue new instructions if necessary. Services for prompt communication with carriers via telephony, SMS and e-mail messages are also available, which again favorably distinguishes our software. Accounting of the freight forwarders services allows you to record the actual costs incurred by each driver and thereby help to correctly calculate the amount payable by each client, taking into account all expenses.
Assessment of the involvement of each responsible department is possible with the accounting application, as well as analysis of the time spent on approval and improvement of work organization. Consolidated information on all branches and divisions of the enterprise is collected in time, as well as data on all logistics service providers and warehouses. We offer you a convenient accounting system for forwarders assistance both in large companies and in small enterprises due to the flexibility of settings. When your employee needs to perform a task, he or she gets an alert to do so. All documents are generated automatically, such as transportation approval, vehicle data sheets, and maintenance papers. The accounting system for forwarders makes all the processes simple and prompt, taking into account the fuel cards issued to drivers, fuel consumption standards, planned mileage, timely replacement of fluids and spare parts. A distinctive feature of the accounting program for forwarders is the ability to draw up weekly schedules of loading and unloading in the context of customers, forwarders, routes, points of departure and destinations. A detailed and visual working diagram of each flight is presented to each user: who ordered the transportation, the readiness of the vehicle, what places of shipment and delivery, who accepts the cargo, whether payment has been made and so on.
Thanks to the application, you control the receipt of payments, cash flow, and debt management. Conducting comprehensive financial analytics is easy thanks to reports of varying complexity, presentation of data in the form of graphs and diagrams in the context of business areas, vehicles, costs, etc. With the accounting system you conduct operational management accounting to develop measures to optimize the company's activities. As for integration features, the software can be integrated with the website of your organization. If you want to evaluate the performance of each employee, then audit of personnel with the software, as well as find the best specialists in your organization. Develop relationships with customers and maintain a full-fledged CRM database, as well as conduct analysis of the performance of client managers. The ability to store templates for contracts and other documents simplifies and speeds up the process of drawing up and signing contracts.