Rating:
4.9
. Number of organizations:
195

Countries:
All
Operating system:
Windows, Android, macOS
Group of programs:
USU software
Purpose:
Business automation
Accounting for finished livestock products
Copyright protects the unique methods of business automation that are used in our programs.



Copyright

We are a verified software publisher. This is displayed in the operating system when running our programs and demo-versions.



Verified publisher

We work with organizations around the world from small businesses to large ones. Our company is included in the international register of companies and has an electronic trust mark.



Sign of trust
Quick transition.
What do you want to do now?
Program screenshot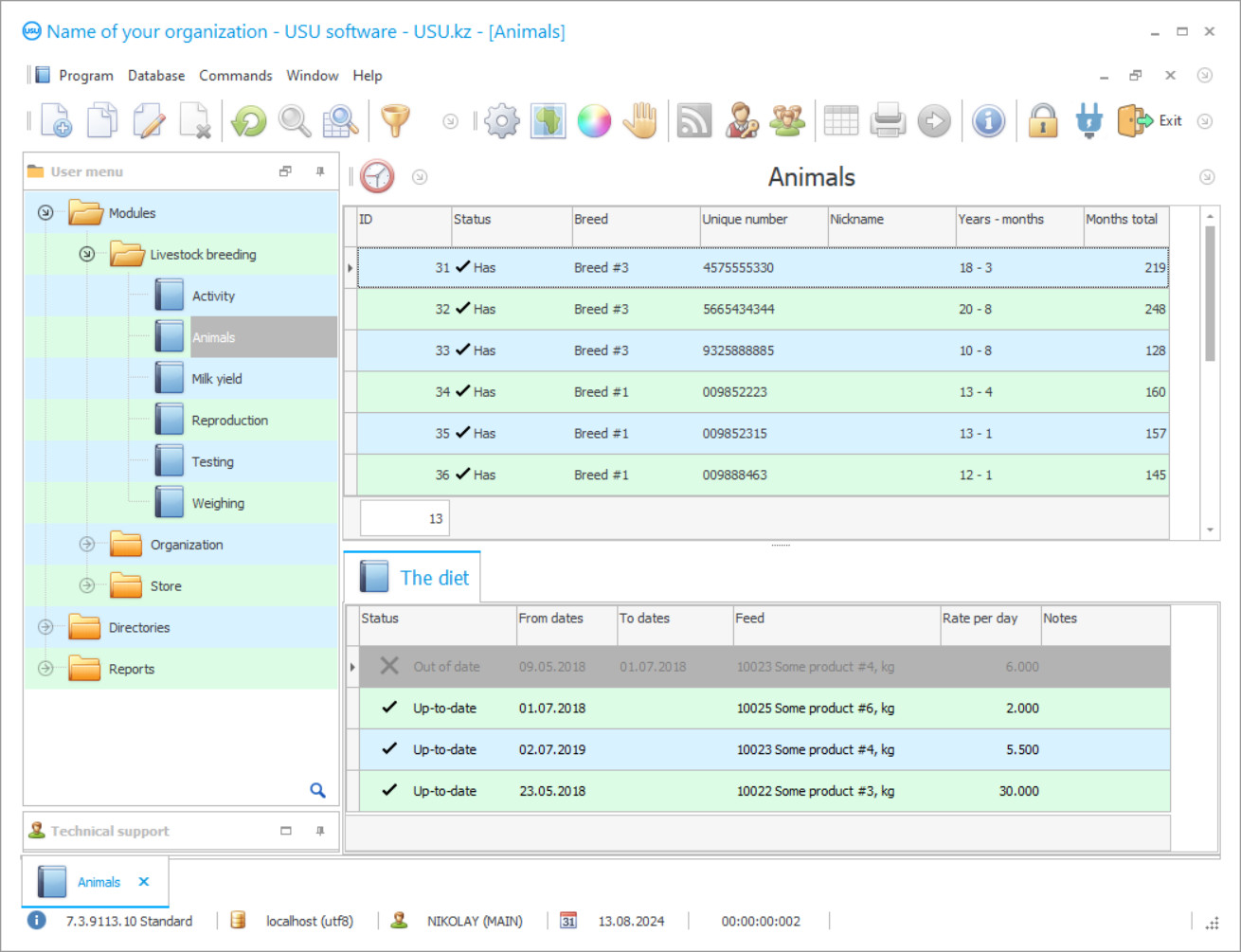 Download demo version
When starting the program, you can select the language.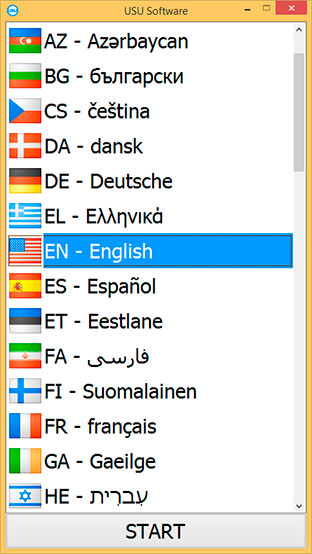 Premium-class program at an affordable price
1. Compare Configurations
Compare configurations of the program

2. Choose a currency
3. Calculate the cost of the program
4. If necessary, order a virtual server rental
In order for all your employees to work in the same database, you need a local network between computers (wired or Wi-Fi). But you can also order the installation of the program in the cloud if:
You have more than one user, but there is no local network between computers.



No local area network

Some employees are required to work from home.



Work from home

You have several branches.



There are branches

You want to be in control of your business even while on vacation.



Control from vacation

It is necessary to work in the program at any time of the day.



Work at any time

You want a powerful server without the big expense.



Powerful server
Calculate the cost of a virtual server

You pay only once for the program itself. And for the cloud payment is made every month.
5. Sign contract
Send the details of the organization or just your passport to conclude an agreement. The contract is your guarantee that you will get what you need. Contract
The signed contract will need to be sent to us as a scanned copy or as a photograph. We send the original contract only to those who need a paper version.
6. Pay with a card or other method
Your card may be in a currency that is no in the list. It's not a problem. You can calculate the cost of the program in US dollars and pay in your native currency at the current rate. To pay by card, use the website or mobile application of your bank.
Bank transfer



Bank transfer

Payment by card



Payment by card

Pay via PayPal



Pay via PayPal

International transfer Western Union or any other



Western Union
Automation from our organization is a complete investment for your business!
These prices are valid for the first purchase only
We use only advanced foreign technologies, and our prices are available to everyone
Compare configurations of the program
Popular choice

Economical
Standard
Professional
Main functions of the selected program Watch the video

All videos can be viewed with subtitles in your own language

Multi-user operation mode when purchasing more than one license Watch the video
Support for different languages Watch the video
Support of hardware: barcode scanners, receipt printers, label printers Watch the video
Using modern methods of mailing: Email, SMS, Viber, voice automatic dialing Watch the video
Ability to configure automatic filling of documents in Microsoft Word format Watch the video
Possibility to customize toast notifications Watch the video
Choosing a program design Watch the video
Ability to customize data import into tables Watch the video
Copying of the current row Watch the video
Filtering data in a table Watch the video
Support for grouping mode of rows Watch the video
Assigning images for more visual presentation of information Watch the video
Augmented reality for even more visibility Watch the video
Temporarily hiding certain columns by each user for himself Watch the video
Permanently hiding specific columns or tables for all users of a specific role Watch the video
Setting rights for roles to be able to add, edit and delete information Watch the video
Selecting fields to search for Watch the video
Configuring for different roles the availability of reports and actions Watch the video
Export data from tables or reports to various formats Watch the video
Possibility to use the Data Collection Terminal Watch the video
Possibility to customize a professional backup your database Watch the video
Audit of user actions Watch the video
Back to pricing

Rent of a virtual server. Price
When do you need a cloud server?
Rent of a virtual server is available both for buyers of "Universal Accounting System" as an additional option, and as a separate service. The price does not change. You can order a cloud server rental if:
You have more than one user, but there is no local network between computers.
Some employees are required to work from home.
You have several branches.
You want to be in control of your business even while on vacation.
It is necessary to work in the program at any time of the day.
You want a powerful server without the big expense.
If you are hardware savvy
If you are hardware savvy, then you can select the required specifications for the hardware. You will immediately be calculated the price for renting a virtual server of the specified configuration.
If you don't know anything about hardware
If you are not technically savvy, then just below:
In paragraph number 1, indicate the number of people who will work in your cloud server.
Next decide what is more important to you:

If it's more important to rent the cheapest cloud server, then don't change anything else. Scroll down this page, there you will see the calculated cost for renting a server in the cloud.
If the cost is very affordable for your organization, then you can improve performance. In step #4, change the server performance to high.
Hardware configuration
JavaScript is disabled, calculation is not possible, contact the developers for a price list
Order an accounting for finished livestock products
Accounting for finished livestock products is an essential stage in the agricultural business. With a properly structured accounting, you can significantly increase the number of products produced and at the same time reduce expenses of keeping livestock and poultry, and the cost of the goods received. To manage such tasks, it is necessary to introduce new technologies in livestock products accounting, as well as new equipment and use modern technological developments. Livestock as a complex economic sector needs new methods of keeping records — automated.
It isn't enough just to count the finished products. For effective business conduct, it is important to solve the issues of organizing proper quality control, as well as to create the right conditions for storage and processing. Livestock products must always come fresh to the consumer. The finished product must be delivered to customers on time and accompanied by all the necessary documentation, including veterinary certificates and documentation. All these processes are the responsibility of the manufacturer. And it'll be easier, faster, and more efficient to solve them with automated accounting.
Each type of animal product has its own characteristics when accounting for finished products. For example, in beef cattle breeding, the gain must be taken into account — an increase in the mass of each animal in the livestock. Staff members should regularly weigh animals and record data that helps to predict the volumes of the finished product — meat, with great accuracy. Dairy farming keeps records of milk yields. For the farm as a whole and for each cow or goat, in particular, the volumes of milk ready for processing and sale are recorded. In the poultry industry, eggs are counted — they are separately counted by category and variety. Sheep breeders keep records of the wool and meat received from livestock, while the finished products are also sorted without fail. In such a branch of animal products as beekeeping, bee colonies and the amount of honey obtained are recorded.
A well-organized accounting of a product ready for sale shows ups and downs, a decrease or increase in dynamics. Such data helps to find the essence of the problem, to identify the factors that influenced the decrease in the quantity or quality of products. With such knowledge, it is not difficult to find ways to solve these problems.
Products from livestock breeders go to the finished goods warehouse, and there it is important to ensure correct acceptance, paperwork, address storage in accordance with the requirements for the shelf life of each product, and sale. The shipment of products and their delivery to consumers also need to be recorded. Correctly structured accounting activities will help optimize sales in order not to allow any excess of finished goods or a shortage of finished goods in the warehouse.
Finished livestock products are counted and controlled by manual methods. But for this purpose, you will need to fill out numerous statements, documentation, and accounting journals. Just one unintentional mistake in paper accounting forms leads to inaccurate analysis and planning, larger errors that lead to financial losses. That is why modern entrepreneurs and farmers are increasingly giving preference to keeping records of finished goods from livestock using information systems.
The developers of the USU Software have created a program that is maximally adapted to the needs of animal husbandry. In it, you can not only accurately and accurately keep track of the received milk, meat, wool, but also solve many other pressing problems, for example, carry out accounting and analysis of financial flows, automate the work of the warehouse and increase its safety, control the actions of personnel, plan a budget. The program saves the staff of the company from the need to fill out forms and write reports. All documents important for accounting, reports are generated automatically.
The software shows how efficiently resources are spent, how things are going with the sale of finished products. Even if sales leave much to be desired, the system will help with this — with its help you can find new customers, suppliers, build a unique system of relationships with them. The software helps to calculate the cost of products based on their initial data — quality, grade, and product group. The program calculates the price for each animal product and shows what elements it has formed from. This helps you quickly find the best accounting conditions, changing which actions reduce the expense of manufacturing a finished product. The manager will be able to receive from the software honest and reliable information not only about the products ready for sale but also about the stages of their production.
The program offered by our experts can be easily adapted to the needs of a particular farm. If the manager plans to expand or introduce new product lines, then the program won't create systemic restrictions for him — it can be scaled to the size of any enterprise and can meet the needs of both small firms and large enterprises, which small companies can become over time with adequate professional accounting.
With all this, the program has a clear interface and quick start within the system. With a little introductory training of personnel, it can be easily mastered by all employees of the animal farm enterprise. When multiple users are running at the same time, there is no crash due to the multi-user interface.
The program will carry out the correct and fast unification of different parts of the farm, production blocks, company divisions in one corporate information network. For each department, the head will be able to keep records of finished products, as well as control all other processes. The exchange of information between employees becomes quick, even if the divisions of the farm are located far from each other.
The software allows you to take into account finished livestock products by different groups — names, date of manufacture, grade, category, weight, price, cost, shelf life, and other parameters. Our application shows the statistics of obtaining products from each individual of the livestock. You can estimate milk yield per cow or wool weight per sheep. This assists in solving productivity problems by applying an individual approach to feeding, caring for, and treating animals. Registration of finished livestock products should be carried out automatically. The role of personnel in this matter is minimal, and therefore the data will always be reliable.
The veterinary plan must always be implemented on time. USU Software shows specialists when and which animals require vaccinations, examinations, analyzes, or treatments. For each animal, the system provides a complete list of all the veterinary actions performed.
The system will automatically keep records and registration of offspring and loss in the livestock. The manager at any time will be able to receive accurate information about the number of livestock heads, taking into account those born and finished.
USU Software eases the issues of personnel records. It'll collect and provide the management with complete statistics on each employee, show how effective and useful the employee is. Based on such data, the best can be reasonably rewarded, the worst — no less reasonably fined. For those who work in the animal product industry on piece-rate conditions, the software can automatically calculate wages.
Control at the warehouse becomes automated. Receipts of consumables and animal products that are finished, and ready for sale will be registered automatically. All movements of products are displayed in statistics immediately, this facilitates the assessment of balances, and reconciliation of inventory. The system provides tools for strategical spending of resources, and warns of a possible product shortage, offering to replenish stocks on time.
This program has a unique built-in time-oriented scheduler. It helps to carry out any planning, set milestones, and take into account intermediate results in achieving goals. USU Software will keep records of all financial receipts and expenditures, as well as show the details and features of financial flows, helping the leader to see ways to optimize the company's expenses. The system shows which types of the organization's products are in the greatest demand. This helps to properly plan production work, conduct advertising, and marketing.
The system can be easily integrated with modern communication facilities and equipment — with telephony, websites, CCTV cameras, trade, and warehouse equipment. This helps keep records of finished goods, label them, print labels, and also helps build strong relationships with partners on an ongoing basis.
The program creates meaningful databases of customers, partners, and suppliers. They'll include information about the requisites, contact information, as well as the entire history of cooperation.
Special mobile applications are developed for employees and regular partners, as well as managers with any experience. Accounts are securely password protected. Each employee gets access to information in the system only in accordance with his area of competence. This measure helps to keep trade secrets secure. A free demo version of the accounting application can be downloaded from our official website.